Peter Lobner
The official Atomium's website reports that 2018 marks the 60thanniversary of this iconic mid-century "atomic age" structure in Brussels.
"The Atomium was the main pavilion and icon of the World Fair of Brussels (1958), commonly called Expo 58.  It symbolized the democratic will to maintain peace among all the nations, faith in progress, both technical and scientific and, finally, an optimistic vision of the future of a modern, new, super-technological world for a better life for mankind.
The peaceful use of atomic energy for scientific purposes embodied these themes particularly well and, so, that is what determined the shape of the edifice.  At 102 meters high, with its nine interconnected spheres, it represents an elementary iron crystal enlarged 165 billion (thousand million) times. It was dreamed up by the engineer André Waterkeyn (1917-2005).  The spheres, though, were fitted out by the architects André and Jean Polak.
The Atomium was not intended to survive beyond the 1958 World Fair but its popularity and success soon made it a key landmark, first of Brussels then internationally.
Half a century later, the Atomium continues, for that matter, to embody those ideas of the future and universality.  And, among other things through its cultural programming, it carries on the debate begun in 1958:  What kind of future do we want for tomorrow?  What does happiness depend on?
Over and above the symbolic value linked to its history, the Atomium has become one of the icons of the city of Brussels: capital of Europe, with which it has a special relationship. Since its inspired restoration (2006), the landmark that many people call the most Belgian monument is also a museum with its permanent collections and temporary exhibitions.
The completely steel-clad Atomium is a kind of UFO in the cultural history of humanity, a mirror turned simultaneously towards the past and the future, comparing our utopias of yesterday with our dreams for tomorrow"
As originally built, the Atomium had a load-bearing steel structure enclosed in an aluminum skin.  After 40 years, the aluminum skin had lost its sheen and gaps had opened up in the joints between panels.  The two-year restoration, which was completed in February 2006, involved removing the aluminum skin and replacing it with a new polished stainless steel skin that maintained the original design while adding LED exterior lighting and other modern features for thermal, sound and fire insulation. You'll find details on the renovation project in a 2007 Euro Inox report at the following link:
https://www.imoa.info/download_files/stainless-steel/euroinox/Atomium.pdf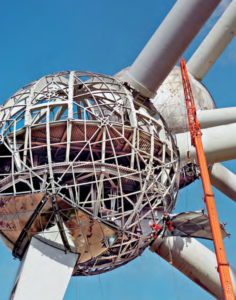 Atomium during renovation.  Source: www.euro-inox.org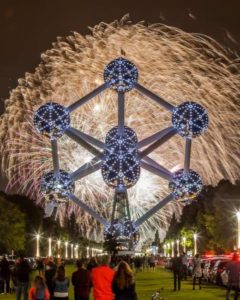 The restored Atomium at night. Source: https://www.brussels.be/60th-anniversary-atomium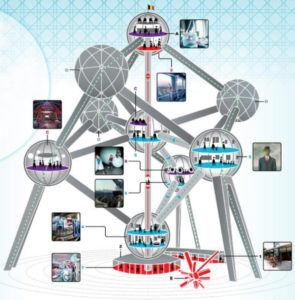 Cross-section of the Atomium.  Source: adapted from https://www.brussels.be/60th-anniversary-atomium
The above cross-section diagram shows the areas of the Atomium used for exhibits, event space, observation platforms and a restaurant. The three unsupported spheres are not open to the public.
See more details on the official Atomium website here:
http://atomium.be/History.aspx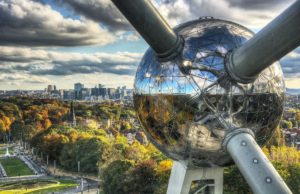 View from the inside. Source:  Georgio Galeotti via https://en.wikipedia.org/wiki/Atomium#/