Peter Lobner
Craig Breedlove is best known as the first person to set land speed records above 400 mph (643.7 kph), 500 mph (804.7 kph) and 600 mph (965.6 kph) in the mid-1960s with his turbojet-powered Spirit of America and its successor, the Spirit of America Sonic 1. He later achieved a peak speed of 675 mph (1,086.3 mph) on a one-way run in his last land speed record car, the Spirit of America Sonic Arrow, in the 1990s.
The first two LSR cars were part of an intense duel from May 1963 to November 1965, primarily between Breedlove and Art Arfons, that resulted in a rapid and exciting increase of the land speed record, from John Cobb's long-standing 16 September 1947 record of 394.196 mph (634.4 kph) in the piston-engine Railton Mobile Special, to Craig Breedlove's 15 November 1965 record of 600.601 mph (966.6 kph) in the Spirit of America Sonic 1. In this two-and-a-half year period, there were 10 incrementally faster unofficial (not FIA certified) and official FIA land speed records. You'll find a complete list of land speed record holders here: https://landspeedrecord.org/speed-records/
Needless to say, this was an exciting time that commanded attention to the latest news from the Bonneville salt flats.
Breedlove's last LSR car, the Spirit of America Sonic Arrow, made its first test run on the Black Rock Desert in Gerlach, NV, on 28 October 1996. During the run, Breedlove reached a peak speed of about 675 mph (1,086 kph), but encountered higher-than-expected crosswinds that caused a dramatic high-speed U-turn that severely damaged the vehicle, which survived but was in need of significant repairs.
In 1997, the repaired Sonic Arrow experienced a series of mechanical problems during speed runs at Black Rock and program funding issues prevented Breedlove from completing another land speed record attempt.
Later in 1997, the British LSR team, which also was at Black Rock with driver Andy Green and their Thrust SSC LSR car, had a series of successful speed runs and they beat Breedlove to the milestones of setting land speed records greater than 700 mph (1,126.5 kph) and at supersonic speed (greater than 761.2 mph / 1,225 kph / Mach 1.0 at sea level at 15ºC/59ºF).
On 25 September 1997, Andy Green set a new land speed record of 714.144 mph (1149 kph / Mach 0.94), and less than a month later, set the first ever two-way supersonic land speed record at 763.035 mph (1,228 kph / Mach 1.02) on 15 October 1997. This record still stands in 2023.
After almost a decade without making another LSR run, Breedlove sold his Sonic Arrow in 2006 to adventurer Steve Fossett in 2006. Unfortunately, Fossett was killed in a September 2007 aircraft crash before being able to mount his own LSR challenge in his improved Sonic Arrow, which was rolled out in October 2007.
Craig Breedlove passed away on 4 April 2023, at the age of 86. He was an inspiration to me, and perhaps to many in my generation who shared an interest in the enormous challenges of raising the land speed record, and surviving to tell about it.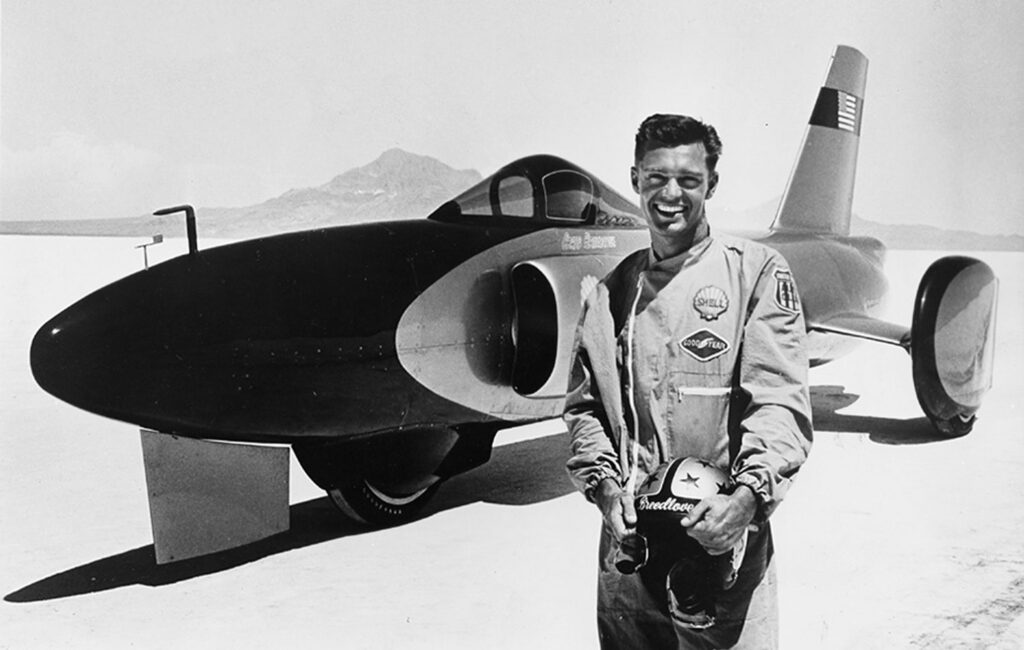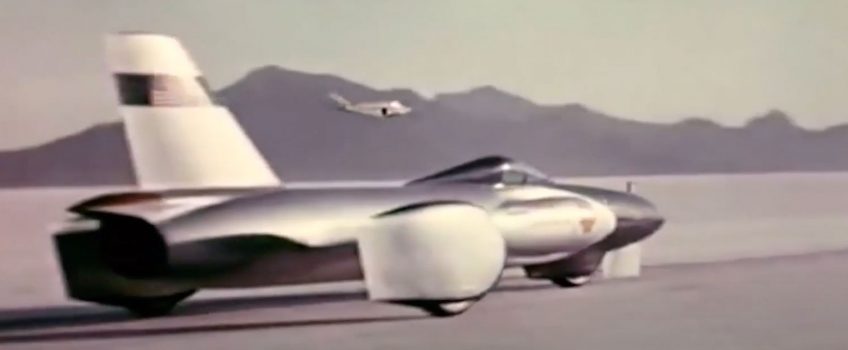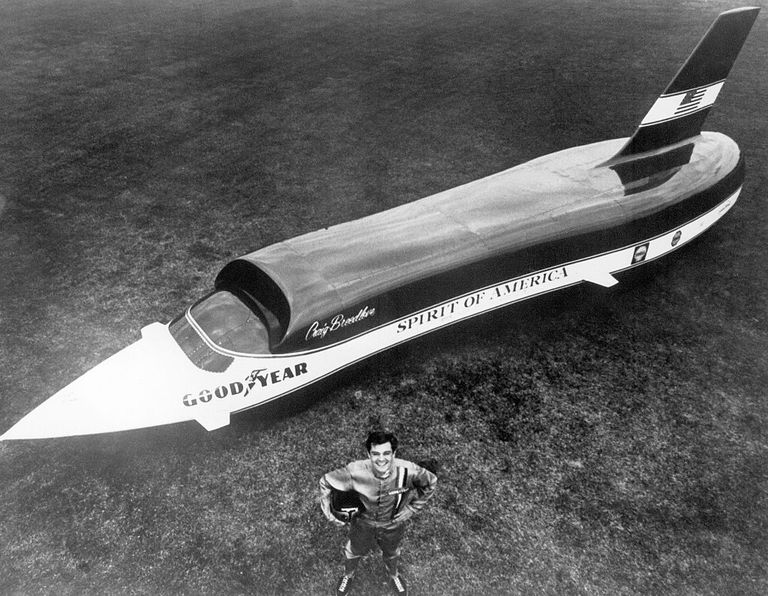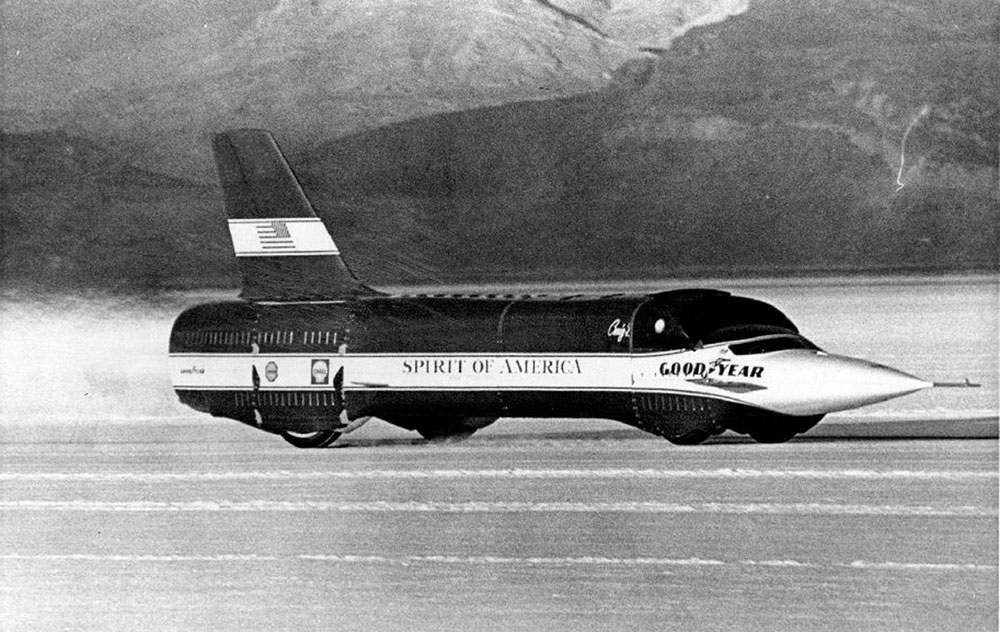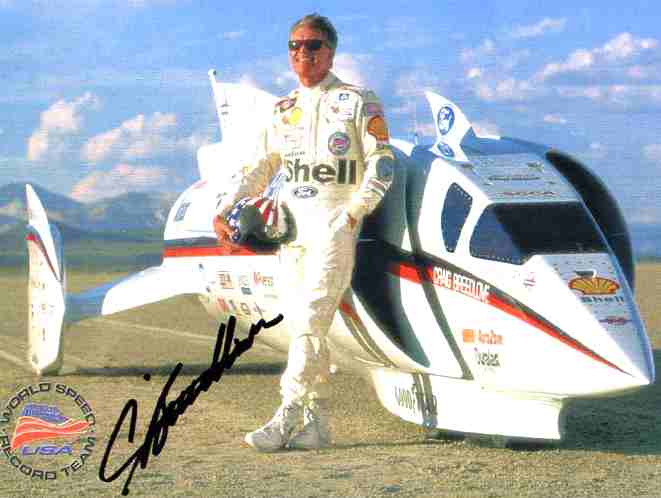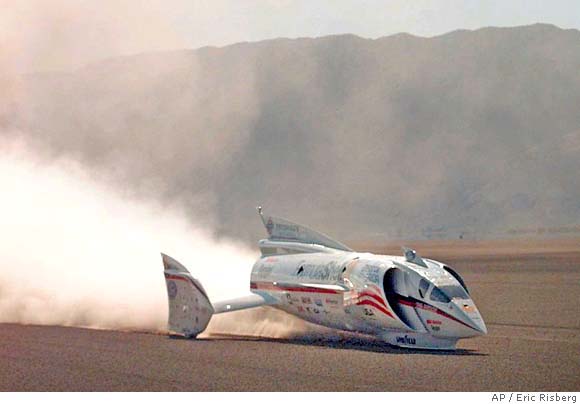 Where are these LSR cars now?
Breedlove loaned the original Spirit of America to the Museum of Science and Industry in Chicago where it was on display from 1965 to 2015, when the museum returned the LSR car to Breedlove, but not before inflicting significant damage to the car. Breedlove said he intended to repair the LSR car. Howerver, its current whereabouts is not known.
The Spirit of America Sonic I vehicle currently is on display at Indianapolis Motor Speedway Hall of Fame Museum.
The Steve Fossett's updated Spirit of America Sonic Arrow LSR car currently is on display in the Wings Over the Rockies Air & Space Museum in Denver.
For more information
Austin Irwin, "Craig Breedlove Dies – World Land Speed Record Legend Piloted 'Spirit of America'," Car & Driver magazine, 5 April 2023: https://www.caranddriver.com/news/a43519752/craig-breedlove-dies-world-land-speed-record/
Marshall Pruett, "Farewell to Craig Breedlove, America's King of Speed," Road & Track magazine, 7 April 2023: https://www.roadandtrack.com/news/a43539008/farewell-to-craig-breedlove-americas-king-of-speed/
Daniel Strohl, "Craig Breedlove reaches settlement with museum that he claims cut up his Spirit of America," Hemmings, 25 January 2017: https://www.hemmings.com/stories/2017/01/25/craig-breedlove-reaches-settlement-with-museum-that-he-claims-cut-up-his-spirit-of-america
Books
Sam Hawley & Craig Breedlove, "Ultimate Speed: The Fast Life and Extreme Cars of Racing Legend Craig Breedlove," Chicago Review Press, ISBN-13: 987-1641600200, 2 October 2018
Craig Breedlove, "Spirit of America;: Winning the world's land speed record," Henry Regnery Co, ASIN: ‎ B0006C2W4Y, 1 January 1971
Sam Hawley, "Speed Duel: The Inside Story of the Land Speed Record in the Sixties," Firefly Books, ISBN-13: ‎ 978-1554076338, 16 September 2010
Videos