Lighter-than-air ships are common sights over many major sporting events; the most common being the Goodyear blimp. In 2011 Goodyear replaced its aging fleet of GZ-20A non-rigid airships (blimps) with Zeppelin model LZ N007-101 semi-rigid (hybrid) airships. However, the name "Goodyear blimp" still applies.
Goodyear's new blimp – Zeppelin LZ N007-101. Source: Goodyear
You can read a very good illustrated history of the Goodyear blimp at the following link
http://www.goodyearblimp.com/relive-history/#page/2
There is a resurgence of interest in the use of lighter-than-air craft in a variety of military, commercial and other civilian roles, including:
Persistent optionally-manned surveillance platforms
Maritime surveillance / search and rescue
Heavy cargo carriers serving remote, unimproved sites
Disaster relief, particularly in areas not easily accessible by other means
Unmanned aerial vehicle (UAV) / unmanned air system (UAS) carrier
Commercial flying cruise liner
In this post, we'll take a look at several of the advanced airship designs that have been developed, or are under development, to perform these types of missions. These airships are:
Science Applications International Corporation (SAIC) Skybus 80K
Aeros Aeroscraft Dragon Dream
Northrop Grumman / Hybrid Air Vehicles HAV-304 (LEMV)
Hybrid Air Vehicles Airlander 10 & 50
Lockheed Martin P-791 & LMH1
Unmanned Air Systems (UAS) Carrier
Commercial Flying Cruise Liner
 SAIC Skybus 80K
 The Skybus 80K was a proof-of-concept, non-rigid airship designed to carry a significant payload and fly autonomously on long duration missions. The goal of this program was to demonstrate greater persistence over target with a greater payload than was possible using an unmanned drone aircraft. Lindstrand USA was responsible for the Skybus 80K vehicle primary envelope and flight structure.
Skybus 80K. Source: Lindstrand USA
Flying out of Loring Air Force Base in Caribou, Maine, the Skybus 80K met its program objectives for carrying 500 pounds to 10,000 feet for 24 hours without refueling. While these may seem to be modest objectives, Skybus 80K was granted the first U.S. certificate for an unmanned experimental airship. This was an important milestone in the development of optionally manned airships.
You can see a short 2010 video of the Skybus 80K rollout and flight at the following link:
http://lindstrandusaus.com/index.php/videos/mediaitem/49-saic
An SAIC concept for an full-scale optionally manned airship is shown in the following figure.
Optionally manned surveillance airship. Source: SAIC
Aeros Aeroscraft Dragon Dream
In 2013, Worldwide Aeros Corp. (Aeros) tested their half-scale proof-of-design demonstration vehicle, Dragon Dream, which embodied the following design features that are shared with other Aeroscraft rigid airships:
Control-of-static-heaviness (COSH) system for variable buoyancy control
Rigid structure, with hard points for mounting the cockpit, propulsion system, aerodynamic control surfaces, and the cargo compartment
Ceiling suspension cargo deployment system for managing cargo with minimal requirements for ground support infrastructure
Landing cushions for operation on unimproved surfaces, including ice and water
Vectored thrust engines for improved control at low speed and hover
Low-speed control system for maintaining position and orientation during vertical takeoff and landing (VTOL) and hover in low wind conditions
Aeros claims that, "these technologies enable the Aeroscraft to fly up to  6,000 nautical miles, while achieving true vertical takeoff and landing at maximum payload, to hover over unprepared surfaces, and to offload over-sized cargo directly at the point of need."
The aeroshell defines the boundary of the helium envelope. Within the aeroshell are Helium Pressure Envelopes (HPE, blue tanks) and Air Expansion Vessels (AEV, grey bladders):
Aeroscraft cutaway showing HPE and AEC. Source: Aeros
The COSH variable buoyancy operating principle is as follows:
To reduce buoyancy: The COSH system compresses helium from the aeroshell volume into the HPEs, which contain the compressed helium and control the helium pressure within the aeroshell.   The compression of helium into the HPEs creates a negative pressure within the aeroshell, permitting the AEVs to expand and fill with readily available environmental ballast (air). The air acts in concert with the reduced helium lift to make the Aeroscraft heavier when desired.
To increase buoyancy: The COSH system releases pressurized helium from the HPEs into the aeroshell. This creates a positive pressure within the aeroshell, causing the AEVs to compress and discharge air back to the environment. With reduced environmental ballast and greater helium lift, overall buoyancy of the Aeroscraft is increased when desired.
Operational Aeroscraft airships will be designed with an internal cargo bay and a cargo suspension deployment system that permits terrestrial or marine (shipboard) delivery of cargo from a hovering Aeroscraft, without the need for local infrastructure.
Aeroscraft cargo handling. Source: Aeros
For more information on the Aeroscraft rigid airship and advanced concepts for heavy cargo carrying airships, visit their website at the following link:
http://aeroscraft.com/aeroscraft/4575666071
Northrop Grumman / Hybrid Air Vehicles HAV-304 (LEMV)
In partnership with Northrop Grumman, Hybrid Air Vehicles (HAV) developed the HAV-304 hybrid airship for the U.S. Army's Long Endurance Multi-Intelligence Vehicle (LEMV) program, which intended to deploy a large optionally manned airship capable of flying surveillance missions of up to three weeks duration over Afghanistan.
The HAV-304 first flew on 7 August 2012 from Joint Base McGuire-Dix-Lakehurst in New Jersey. Operations were terminated when the LEMV contract was cancelled in February 2013.
Hybrid Air Vehicles bought the airship and associated materials back from the Army and returned to the UK to continue developing airships for civilian use.
LEMV. Source: Northrop Grumman
Hybrid Air Vehicles Airlander 10 & 50
The Airlander 10 airship, manufactured by Hybrid Air Vehicles, is the commercial reincarnation of the HAV-304 LEMV airship. This hybrid airship that files using a combination of buoyant lift from helium, vectored thrust lift from its engines during takeoff and landing, and aerodynamic lift from its airfoil shaped hull during forward flight.
Helium lift nominally provides about 60% of the lift required for Airlander 10 to fly, with the balance coming from vectored thrust and/or aerodynamic lift depending on the flight mode.
In Airlander 10, helium lift is controlled much like in a conventional blimp, using multiple ballonets located fore and aft in each of the hulls. A ballonet is a gas volume that can be inflated with air inside the main helium volume of the airship's hull. Inflating a ballonet with air increases the mass of the airship and compresses the helium into a smaller volume, with the net result of decreasing buoyant lift. Inflating only the fore or aft ballonet will make the bow or stern of the airship heavier and change the pitch of the airship. These operating principles are shown in the following diagrams of a blimp with two ballonets shown in blue.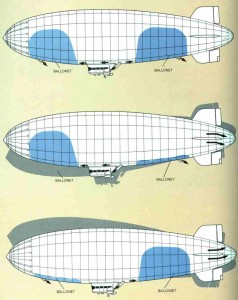 Blimp with ballonets (blue). Source: zeppelinfan.de
Airlander 10 currently is the world's largest aircraft, measuring 302 feet (92 m) long and 143 feet (43.5 m) wide. HAV describes the airship's construction as follows:
"There is no internal structure in the Airlander – it maintains its shape due to the pressure stabilization of the helium inside the hull, and the smart and strong Vectran material it is made of. Carbon composites are used throughout the aircraft for strength and weight savings."
Maximum payload capacity is 22,050 pounds (10,000 kg), which must be suspended externally from a centerline payload beam. Maximum speed is 80 kts (148 kph), maximum altitude is 16,000 feet (4,880 m), and manned mission duration is up to 5 days. Unmanned missions can be significantly longer.
Airlander 10 made its first two flights on 25 August 2016 from Cardington Airfield in Bedfordshire, England. While the first flight went well, the second ended with an inauspicious soft crash landing with some damage to the airship, but no injuries to the crew.
Airlander 10 first flight. Source: CNNMoney.
Airlander 10 soft crash landing after second flight. Source: Sky news
A larger version known as Airlander 50 is being designed with internal cargo bays capable of carrying up to 132,300 pound (60,000 kg) payloads. An concept drawing for Airlander 50 is shown below.
Airlander 50. Source: hybridairvehicles.com
More information on Airlander airships is available on the Hybrid Air Vehicles website at the following link:
https://www.hybridairvehicles.com/about-us
Lockheed Martin P-791
The Lockheed Martin P-791 was one of the competitors in the U.S. Army's LEMV program, which was won by the Northrop Grumman team with the HAV-3 hybrid airship.
Like the HAV-3, the P-791 tri-lobe airship files under the combined influence of buoyant lift from helium, vectored thrust from propellers during takeoff and landing, and aerodynamic lift from the airfoil shaped hull when the airship is in forward flight. The first flight of the P-791 took place on 31 January 2006 at a Lockheed's facility in Palmdale, CA.
P-791. Source: Lockheed Martin
P-791. Source: Lockheed Martin
You can see a short video on the P-791 at the following link:
https://www.youtube.com/watch?v=TrW7EGwYEzg
Lockheed Martin LMH1
LMH1 is a hybrid airship based on the P-791 design, but intended for commercial applications. The LMH1 is designed to carry a crew of 2, up to 19 passengers, and 20 tons (18,143 kg) of cargo at a maximum speed of 60 kts (111 kph) over a range 1,400 nautical miles (2,593 km). This airship design can be scaled to carry much heavier cargo.
LMH1. Source: Lockheed Martin
LMH1. Source: Lockheed Martin
In November 2015, the Federal Aviation Administration (FAA) approved Lockheed's certification plan for the LMH1. Lockheed Martin has engaged sales firm Hybrid Enterprises to market the LMH1 and current plans call for initial deliveries in 2018.
Unmanned Air Systems (UAS) Carrier
Small, unmanned air vehicles (UAV), now commonly called UAS, can carry advanced sensors and weapons, but generally have short range. In spite of their range limitations, UASs can provide valuable and cost-effective capabilities for military planners and war fighters. At a recent conference is Washington D.C., Defense Advanced Research Projects Agency (DARPA) Deputy Director Steve Walker asked the following question: "With the ranges we are looking at in the Pacific Theater, how do we get our small UAS to the fight?" Actually, he already knew the answer.
In March 2016, DARPA awarded the first contracts in support of its Gremlins program, which DARPA describes as:
"Gremlins (program)…… seeks to develop innovative technologies and systems enabling aircraft to launch volleys of low-cost, reusable unmanned air systems (UASs) and safely and reliably retrieve them in mid-air. Such systems, or "gremlins," would be deployed with a mixture of mission payloads capable of generating a variety of effects in a distributed and coordinated manner, providing U.S. forces with improved operational flexibility at a lower cost than is possible with conventional, monolithic platforms."
While the primary launch / recovery vehicle for this phase of the Gremlins program is a C-130 Hercules turboprop transport aircraft, the UAS launch and recovery techniques developed by the Gremlins program may be adaptable to other types of air vehicles, such as airships. Read more on the DARPA Gremlins program at the following link:
http://www.darpa.mil/news-events/2016-03-31
SAIC and ArcZeon International, LLC have proposed a UAS carrier airship for this type of mission. A concept drawing for such an airship is shown below.
Airship deploying UAS. Source: SAIC / ArcZeon
Commercial Flying Cruise Liner
Dassault Systems posted an evocative advertisement in the a July 2016 issue of Aviation Week & Space Technology magazine, with the following tag line:
"If we go on a cruise, does it have to be at sea level?"
 Source: Dassault Systemes / Raybrennancreative.com
The image of a lighter-than-air cruise ship flying over snow-capped mountains looks like an airship builders dream from the mid-1930s, but with a distinctly modern airship design. The print ad concluded with the question:
"How long before the sky becomes the destination?"
While Dassault Systemes is not in the business of building airships, they have developed an integrated system called the 3DExperience platform to assist clients in developing "compelling consumer experiences." I hope one of their clients likes the idea of a flying cruise liner. Let's take a closer look.
Source: Dassault Systemes / Raybrennancreative.com
Very nice!!
The closest you can come to such an adventure today is a short commercial flight aboard a Zeppelin NT airship from Friedrichshafen, Germany, home of the Zeppelin factory. You can book your flight at the following link:
http://zeppelin-nt.de/en/homepage.html
View of German countryside from Zeppelin-NT. Source: zeppelin-nt.de