Peter Lobner
Earlier this year, the San Diego U-T newspaper started a series entitled, Balboa Park – 100 Memories, which, on 22 May 2015, presented an article on Alpha the robot, who visited San Diego in 1935 for exhibition during the 1934 – 35 California Pacific International Exposition. Alpha was the creation of British engineering professor Harry May and was first introduced in the U.K in 1932.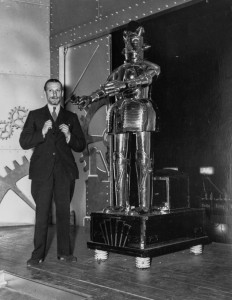 Image source: San Diego History Center, Electric Ivy
Alpha debuted in the U.S. with an appearance at Macy's department store in New York City in 1934. The November 5, 1934 issue of Time magazine describes a demonstration of Alpha at Macy's as follows:
 "Last week Alpha, the robot, made its first public appearance in the U. S. One of the most ingenious automatons ever contrived by man, a grim and gleaming monster 6 ft. 4 in. tall, the robot was brought to Manhattan by its owner-inventor-impresario, Professor Harry May of London, and installed on the fifth floor of R. H. Macy & Co.'s department store. Encased from head to foot in chromium-plated steel armor, Alpha sat on a specially constructed dais with its cumbrous feet securely bolted to the floor, stared impassively over the knot of newshawks and store officials waiting for the first demonstration. The creature had a great sullen slit of a mouth, vast protuberant eyes, shaggy curls of rolled metal. In one mailed fist Alpha clutched a revolver."
Some details of Alpha's operation were described in the February, 1934 issue of Practical Mechanics magazine, which you can read at the following link:
http://www.davidbuckley.net/DB/HistoryMakers/Alpha1932_files/PracticalMechanics/PracticalMechanics.htm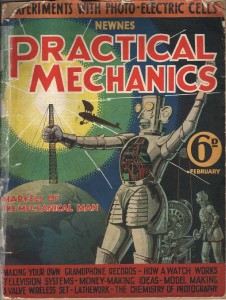 Image source: www/davidbuckley.net, see link above
As discussed in the recent U-T, Balboa Park – 100 Memories article, Alpha the robot was exhibited in the Palace of Science (now the Museum of Man) in Balboa Park. The article goes on to say:
 "The 2,000-pound, 6-foot steel giant stood up, sat down, smoked cigarettes, fired a gun and answered questions. Asked if he loved his wife, according to a Feb. 29, 1936, article in the San Diego Sun, Alpha replied, "I've a heart of steel. I don't love nobody and nobody loves me."
During the California Pacific International Exposition, a performer in a costume similar to Alpha the robot attempted to kidnap Zorine, Queen of the Nudists, from Zoro Garden, a sunken stone grotto originally designed as a nudist colony attraction for the Exposition, near what is now the Reuben H. Fleet Science Center.  Imagine that!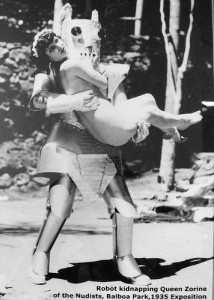 You can see a short interview with Alpha the robot at the following link:
http://en.savefrom.net/#url=http://youtube.com/watch?v=a9l9pt_Jzn8&utm_source=youtube.com&utm_medium=short_domains&utm_campaign=www.ssyoutube.com
Alpha the robot must have been very impressive for it's time. To see what modern robots can do 80 years later, be sure to follow the 2015 DARPA Robotics Challenge (DRC) Finals to be held 5-6 June, 2015, at Fairplex in Pomona, Calif., outside of Los Angeles. Refer to my 23 March 2015 post for more information of the DRC Finals.