Peter Lobner
Updated 10 January 2020
60 years ago, on 17 Jan 1955,  CDR Eugene Wilkinson, the first CO of the USS Nautilus, SSN-571, ordered the following message sent as his nuclear-powered sub got underway for the first time in New London, CT.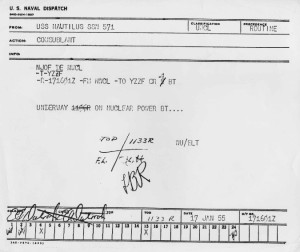 Source: U.S. Navy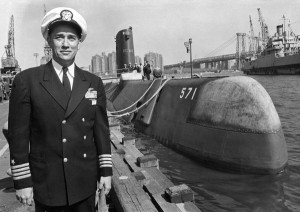 CDR Eugene Wilkinson and Nautilus.  Source: U.S. Navy
You'll find an interesting, short backstory to this message at the following link:
Wilkinson retired from the Navy as a Vice Admiral in 1974, died in 2013, and is buried in Fort Rosecrans National Cemetery in San Diego, CA.
There's a short history of the early Navy nuclear power program and Nautilus at the following link: 
 Admiral Rickover. Source: U.S. Navy
We owe a debt of gratitude to Admiral Hyman G. Rickover for the success of the Naval Nuclear Power Program, which is quite visible here in San Diego, with nuclear-powered aircraft carriers based at North Island and submarines operating from Ballast Point in Point Loma.
In July 2018, I completed a set of eight resource documents collectively titled, "Marine Nuclear Power: 1939 – 2018,"  and comprising over 2,100 pages formatted as slide presentations.   The eight parts are:
Part 1: Introduction
Part 2A: United States – Submarines
Part 2B: United States – Surface Ships
Part 3A: Russia – Submarines
Part 3B: Russia – Surface Ships & Non-propulsion Marine Nuclear Applications
Part 4: Europe & Canada
Part 5: China, India, Japan and Other Nations
Part 6: Arctic Operations
All of these can be accessed through my 25 July 2018 "Marine Nuclear Power 1939 – 2018" post at the following link: 
https://lynceans.org/all-posts/marine-nuclear-power-1939-2018/