Peter Lobner
In the presentation files from my 5 August 2015 talk, 60 Years of Marine Nuclear Power, I noted that, while North Korea has a program to develop nuclear-armed submarine launched ballistic missiles (SLBMs), it appears that their current focus is on installing these missiles on conventionally-powered submarines. The particular conventional missile-launching submarines (SSBs) identified were a refurbished Russian-designed Golf II-class SSB and a new, small indigenous SSB provisionally named Sinpo, for the shipyard where it was observed, or Gorae. Both the refurbished Golf II and the new Sinpo (Gorae) have missile tubes in the sail and are capable of launching missiles while submerged. You will find my presentation files on the Lyncean website under the Past Meetings tab. The direct link to the file containing information on the North Korean program is listed below:
https://lynceans.org/wp-content/uploads/2015/09/Part-4_UK-France-Others-60-yrs-of-marine-nuc-power.pdf
On 24 August 2016, North Korea launched a KN-11 ballistic missile from a submerged launcher, likely a submarine. The KN-11 missile flew 500 km (310 miles) downrange from the launch point into the Sea of Japan.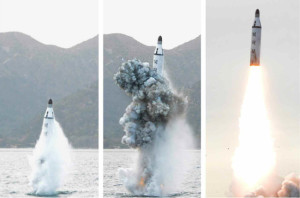 Source: An undated photo from North Korean Central News Agency, "underwater test-fire of strategic submarine ballistic missile"
Range of the missile actually may be considerably greater because it appears to have been launched on a "lofted trajectory" that achieved a much higher apogee than normally would be associated with a maximum range ballistic flight. A similar higher-than-normal apogee was observed in the 21 July 2016 flight test of North Korea's BM25 Musudan land-based, mobile, intermediate range ballistic missile (IRBM), which flew 402 km (250 miles) downrange, but reached an apogee of 1,400 km (870 miles). The extra energy required for the KN-11 and Musudan to reach an unusually high apogee would translate directly into greater downrange distance on a maximum range ballistic flight.
You can see a summary of North Korea's KN-11 test program on the Wikipedia website at the following link:
https://en.wikipedia.org/wiki/KN-11#First_KN-11_Complete_Success_Test
For the best analysis of the Sinpo (Gorae) SSB and the KN-11 SLBM, I refer you to H. I. Sutton's Covert Shores website at the following link:
http://www.hisutton.com/Analysis%20-%20Sinpo%20Class%20Ballistic%20Missile%20Sub.html

Source: H. I. Sutton Covert Shores
Sutton comments on the small size of the Sinpo (Gorae) SSB:
"It seems that she is built to the requirement of being the smallest possible boat to carry an NK-11……This reinforces the view that she is only a test boat with limited operational capability at most."
While North Korea's SSBs and SLBMs are works in progress, I think we are seeing substantial evidence that significant progress is being made on the submarine and the delivery vehicle. A big unknown is the development status of an operational nuclear warhead for the NK-11 missile. On 6 January 2016, North Korea conducted its fourth nuclear test. It has been reported that the yield from this test was in the 10-kiloton range. For comparison, the Little Boy bomb dropped on Hiroshima had a yield of about 15 kilotons. You can find a summary of North Korea's nuclear tests on the Wikipedia website at the following link:
https://en.wikipedia.org/wiki/List_of_nuclear_weapons_tests_of_North_Korea
In the 29 Aug – 11 Sep 2016 issue of Aviation Week and Space Technology magazine, Daryl Kimball of the Arms Control Association is quoted as saying:
"North Korea's accelerated pace of ballistic missile testing is definitely worrisome," Kimball says. "They have not necessarily perfected some of these systems to the point where they are effective military systems. That said, if nothing is done to halt further ballistic missile testing, they're going to eventually – and I mean within a few years – develop a rudimentary long-range capability to deliver a nuclear warhead."
For quite some time, there has been speculation of technical collaboration between Iran and North Korea on development of long-range missiles, and perhaps nuclear weapons. North Korea's credibility as a technology partner has been enhanced by their January 2016 successful nuclear test and the more recent tests of the KN-11 and BM25 delivery vehicles.