Peter Lobner
On 31 May 1931 Professor Auguste Piccard and Paul Kipfer made the first balloon flight into the stratosphere in a pressurized gondola. These aeronauts reached an altitude of 51,777 ft (15,782 m) above Augsburg, Germany in the balloon named FNRS (Belgian National Foundation for Scientific Research). At that time, a state-of-the-art high-altitude balloon was made of relatively heavy rubberized fabric. Several nations made stratospheric balloon flights in the 1930s, with the U.S. National Geographic Society's Explorer II setting an altitude record of 72,395 ft (22,065 m) on 11 November 1935.
After World War II, very large, lightweight, polyethylene plastic balloons were developed in the U.S. by Jean Piccard (August Piccard's twin brother) and Otto Winzen. These balloons were used primarily by the U.S. military to fly payloads to very high altitudes for a variety of research and other projects.
The Office of Naval Research (ONR) launched its first Project Skyhook balloon (a Piccard-Winzen balloon) on 25 September 1947, and launched more than 1,500 Skyhook balloons during the following decade. The first manned flight in a Skyhook balloon occurred in 1949.
The record for the highest unmanned balloon flight was set in 1972 by the Winzen Research Balloon, which achieved a record altitude of 170,000 ft (51,816 m) over Chico, CA.
USAF Project Man High & U.S. Navy Strato-Lab: 1956 – 1961
Manned stratospheric balloon flights became common in the 1950s and early 1960s under the U.S. Air Force's Man High program and the U.S. Navy's Strato-Lab program. One goal of these flights was to gather physiological data on humans in pressure suits exposed to near-space conditions at altitudes of about 20 miles (32.2 km) above the Earth. You'll find an overview of these military programs at the following link:
http://www.space-unit.com/articles/manned_pioneer_flights_in_the_usa.pdf
Three Man High flights were conducted between June 1957 and October 1958. In August 1957, the Man High II balloon flight by Major David Simons reached the highest altitude of the program: 101,516 feet (30,942 m). The rather cramped Man High II gondola is shown in the following diagram.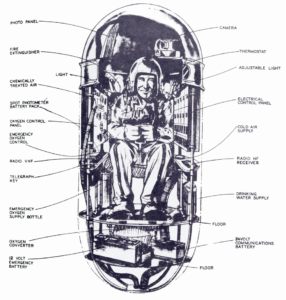 Man High II gondola. Source: USAF.
The Man High II gondola is on display at the National Museum of the United States Air Force, Dayton, OH. You'll find details on the Man High II mission at the following link:
http://stratocat.com.ar/fichas-e/1957/CBY-19570819.htm
Five Strato-Lab flights were made between August 1956 and May 1961, with some flights using a pressurized gondola and others an open, unpressurized gondola. The last mission, Strato-Lab High V, carrying Commander Malcolm Ross and scientist Victor Prather in an unpressurized gondola, reached a maximum altitude of 113,740 ft (34,575 meters) on the 4 May 1961. The main objective of this flight was to test the Navy's Mark IV full-pressure flight suit.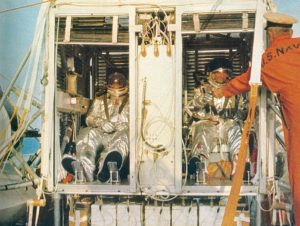 Strato-Lab V open gondola. Source: stratocat.com
See the following link for details on Strato-Lab missions.
http://stratocat.com.ar/artics/stratolab-e.htm
USAF Project Excelsior: 1959 – 60
To study the effects of high-altitude bailout on pilots, the USAF conducted Project Excelsior in 1959 and 1960, with USAF Capt. Joseph Kittinger making all three Excelsior balloon flights. In the Excelsior III flight on 16 August 1960, Capt. Kittinger bailed out from the unpressurized gondola at an altitude of 102,800 feet (31,330 m) and was in free-fall for 4 minutes 36 seconds. Thanks to lessons learned on the previous Excelsior flights, a small drogue stabilized Kittinger's free-fall, during which he reached a maximum vertical velocity of 614 mph (988 km/h) before slowing to a typical skydiving velocity of 110 – 120 mph (177 – 193 kph) in the lower atmosphere. You'll find Capt. Kittinger's personal account of this record parachute jump at the following link:
http://news.nationalgeographic.com/news/2012/10/121008-joseph-kittinger-felix-baumgartner-skydive-science/
Project Stargazer: 1960
Capt. Kittinger and astronomer William White performed 18 hours of astronomical observations from the open gondola of the Stargazer balloon. The flight, conducted on 13 – 14 December 1960, reached a maximum altitude of 82,200 feet (25,100 m).
Red Bull Stratos: 2012
On 14 October 2012, Felix Baumgartner exited the Red Bull Stratos balloon gondola at 128,100 feet (39,045 m) and broke Joe Kittinger's 52-year old record for the highest parachute jump. Shortly after release, Baumgartner started gyrating uncontrollably due to asymmetric drag in the thin upper atmosphere and no means to stabilize his attitude until reaching denser atmosphere. During his perilous 4 minute 40 second free-fall to an altitude of about 8,200 ft (2,500 m), he went supersonic and reached a maximum vertical velocity of 833.9 mph (1,342.8 kph, Mach 1.263).
You'll find details on Baumgartner's mission at the following link:
You can read the 4 February 2013 Red Bull Stratos Summary Report here:
https://issuu.com/redbullstratos/docs/red_bull_stratos_summit_report_final_050213
Capt. Kittinger was an advisor to the Red Bull Stratos team. The gondola, Felix Baumgartner's pressure suit and parachute are on display at the Smithsonian Air & Space Museum's Udvar-Hazy Center in Chantilly, VA.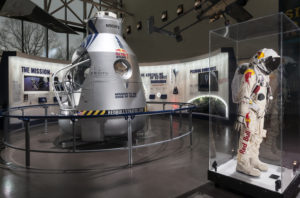 Red Bull Stratos gondola & pressure suit. Source: Smithsonian
Stratospheric Explorer: 2014
Baumgartner's record was short-lived, being broken on 14 October 2014 when Alan Eustace jumped from the Stratospheric Explorer (StratEx) balloon at an altitude of 135,899 ft (41,422 meters).  Eustace used a drogue device to help maintain stability during the free-fall, before his main parachute opened. He fell 123,235 ft (37,623 meters) with the drogue and reached a maximum vertical velocity of 822 mph (1,320 km/h); faster than the speed of sound. You can read an interview of Alan Eustace, including his thoughts on stratosphere balloon tourism, at the following link:
http://www.popsci.com/moonshot-man-why-googles-alan-eustace-set-new-free-fall-record
More information of this record-setting parachute jump is at the following link:
http://www.space.com/34725-14-minutes-from-earth-supersonic-skydive.html
World View® Voyager
If you're not ready to sign up for a passenger rocket flight, and the idea of bailing out of a balloon high in the stratosphere isn't your cup of tea, then perhaps you'd consider a less stressful flight into the stratosphere in the pressurized gondola of the Voyager passenger balloon being developed by World View Enterprises, Inc. They describe an ascent in the Voyager passenger balloon as follows:
"With World View®, you'll discover what it's like to leave the surface of the Earth behind. Every tree, every building, even the mountains themselves become smaller and smaller as you gently and effortlessly rise above. The world becomes a natural collage of magnificent beauty, one you can only appreciate from space. Floating up more than 100,000 feet within the layers of the atmosphere, you will be safely and securely sailing at the very threshold of the heavens, skimming the edge of space for hours. The breathtaking view unfolds before you—our home planet suspended in the deep, beckoning cosmos. Your world view will be forever changed."
You can view an animated video of such a flight at the following link:
The following screenshots from this video show the very large balloon and the pressurized Voyager gondola, which is suspended beneath a pre-deployed parafoil parachute connected to the balloon. After reaching maximum altitude, the Voyager balloon will descend until appropriate conditions are met for releasing the parafoil and gondola, which will glide back to a predetermined landing point.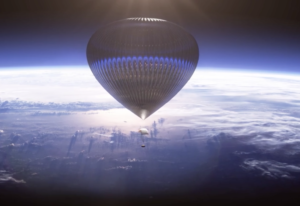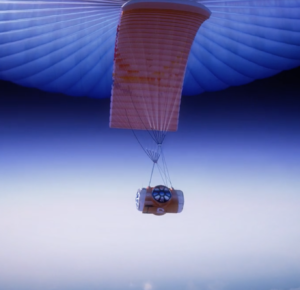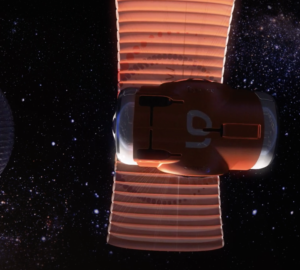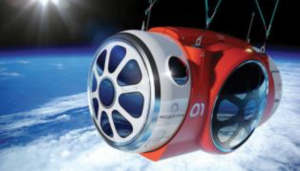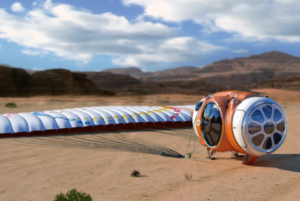 Source for five screenshots, above:  WorldView Enterprises, Inc.
In February 2017, World View opened a large facility at Spaceport Tucson to support its plans for developing and deploying unmanned balloons for a variety of missions as well as Voyager passenger balloons. World View announced plans to a fly a test vehicle named Explorer from Spaceport Tucson in early 2018, with edge-of-space passenger flights by the end of the decade.
For more information on World View Enterprises and the Voyager stratosphere balloon, visit their website at the following link: