Peter Lobner
Las Vegas relies on Lake Mead for 90% of its water needs. Currently, water from Lake Mead can be supplied to Las Vegas by three intakes at different levels in the lake. The newest, and deepest, is known as the "third straw" intake (IPS-3), which taps into the lake at 860 feet above sea level. That's 190 feet below the highest existing intake, IPS-1, at 1,050 feet.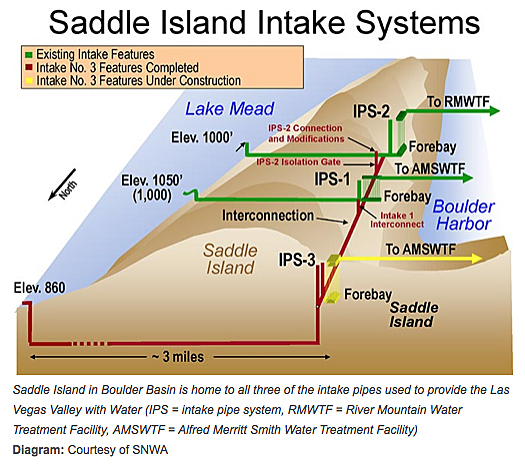 The operation of this three-intake system is explained in Southern Nevada Water Authority's (SNWA) short video, "How does the SNWA's Low Lake Level Pumping Station protect our drinking water supply?" at the following link: https://www.youtube.com/watch?v=bDDuid6XJnw&t=39s
You'll find Lake Mead current water level and historical water level data here: http://mead.uslakes.info/level.asp
On 18 June 2021, the lake level was 1,070.43 feet MSL at 5:00 PM. This is 158.57 feet below the "full pool" level of 1,229.00 feet and is only 20.43 feet above the highest (IPS-1) intake.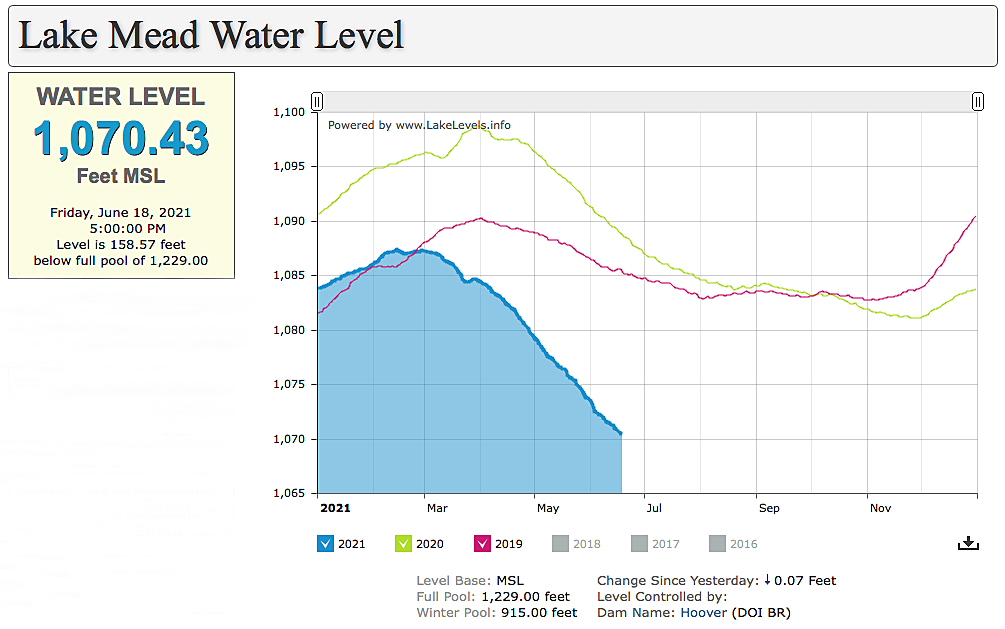 On 10 June 2021, Lake Mead water level was 1,071.51 at 7:00 AM and was about 36% full. The lake had not been this low since July 2016. Using just the 10 June and 18 June data points, lake water level currently is decreasing at about 1.5 inches per day.
Runoff from the Rocky Mountain snowpack is essentially over this year, so water level is expected to continue declining until the start of the next rainy season in November.
The first-ever official federal water shortage declaration is expected in August 2021, when the Bureau of Reclamation issues its regularly scheduled long-term water level projection. A Level 1 declaration would be implemented in January 2022 under agreements negotiated with seven states that rely on Colorado River water: Arizona, California, Colorado, Nevada, New Mexico, Utah and Wyoming. Water from the Colorado River serves 40 million people in these states and Mexico.
Let's pray for a lot of wet weather in the US southwest.
For more information