Peter Lobner
The TOP500 project was launched in 1993 to implement an improved statistical process for benchmarking the performance of large general purpose computer systems and maintain a list of the 500 most powerful general purpose computer systems in the world based on benchmark test results. The TOP500 website is at:
The TOP500 list ranks computers by their performance on a LINPAC Benchmark test to solve a dense system of linear equations. While this performance metric does not reflect overall performance of a given system, the systematic application of this benchmark test provides a good measure of peak performance and enables a meaningful relative ranking.
The TOP500 list is updated in June and November each year. Tianhe-2 (Milky Way), a supercomputer developed by China's National University of Defense Technology has maintained the top position in four consecutive TOP500 lists with a performance of 33.86 petaflops [PFLOPS; 1015  floating-point operations per second (FLOPS)], using 17.8 MW (megawatts) of electric power. The growth in supercomputer performance over the past 20 years is shown in the following chart: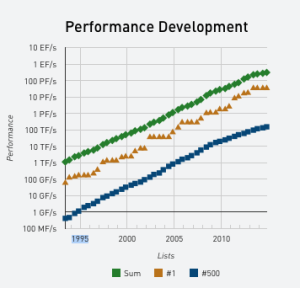 Source: TOP500
You can access the November 2014 TOP500 list at the following link:
http://www.top500.org/list/2014/11/
On 9 April 2015, the U.S. Department of Energy announced a $200 million investment to deliver a next-generation U.S. supercomputer, known as Aurora, to the Argonne Leadership Computing Facility (ALCF) near Chicago. Read the DOE announcement at the following link:
http://energy.gov/articles/us-department-energy-awards-200-million-next-generation-supercomputer-argonne-national
Intel will work with Cray Inc. as the Aurora system integrator sub-contracted to provide its scalable system expertise together with its proven supercomputing technology and the HPC (Hewlett Packard) software stack. Aurora will be based on a next-generation Cray supercomputer, code-named "Shasta," a follow-on to the Cray® XC™ series. Aurora is expected to have a peak performance of 180 petaflop/s. When commissioned in 2018, this supercomputer will be open to all scientific users.
Argonne and Intel will also provide an interim system, called Theta, to be delivered in 2016, which will help ALCF users transition their applications to the new technology to be used in Aurora.
DOE earlier announced a $325 million investment to build new, state-of-the-art supercomputers at its Oak Ridge and Lawrence Livermore laboratories.