Peter Lobner
Following a severe offshore earthquake on 11 March 2011 and subsequent massive tidal waves, the Fukushima Daiichi NPS and surrounding towns were severely damaged by these natural events. The extent of damage to the NPS, primarily from the effects of flooding by the tidal waves, resulted in severe fuel damage in the operating Units 1, 2 and 3, and hydrogen explosions in Units 1, 3 and 4. In response to the release of radioactive material from the NPS, the Japanese government ordered the local population to evacuate. You'll find more details on the Fukushima Daiichi reactor accidents in my 18 January 2012 Lyncean presentation (Talk #69), which you can access at the following link:
https://lynceans.org/talk-69-11812/
On 1 September 2016, Tokyo Electric Power Company Holdings, Inc. (TEPCO) issued a video update describing the current status of recovery and decommissioning efforts at the Fukushima Daiichi NPS, including several side-by-side views contrasting the immediate post-accident condition of a particular unit with its current condition. Following is one example showing Unit 3.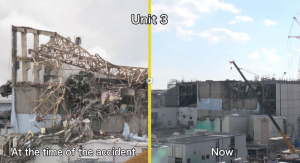 Source: TEPCO
You can watch this TEPCO video at the following link:
http://www.tepco.co.jp/en/news/library/archive-e.html?video_uuid=kc867112&catid=69631
This video is part of the TEPCO Photos and Videos Library, which includes several earlier videos on the Fukushima Daiichi NPS as well as videos on other nuclear plants owned and operated by TEPCO (Kashiwazaki-Kariwa and Fukushima Daini) and other TEPCO activities. TEPCO estimates that recovery and decommissioning activities at the Fukushima Daiichi NPS will continue for 30 – 40 years.
An excellent summary article by Will Davis, entitled, "TEPCO Updates on Fukushima Daiichi Conditions (with video)," was posted on 30 September 2016 on the ANS Nuclear Café website at the following link:
http://ansnuclearcafe.org/2016/09/30/tepco-updates-on-fukushima-daiichi-conditions-with-video/
For additional resources related to the Fukushima Daiichi accident, recovery efforts, and lessons learned, see my following posts on Pete's Lynx:
20 May 2016: Fukushima Daiichi Current Status and Lessons Learned
22 May 2015: Reflections on the Fukushima Daiichi Nuclear Accident
8 March 2015: Scientists Will Soon Use Natural Cosmic Radiation to Peer Inside Fukushima's Mangled Reactor