Peter Lobner
The Hubble Space Telescope was launched on 24 April 1990 by the space shuttle Discovery on mission STS-31, and was deployed into orbit on 25 April. You can find details on the design of Hubble at the following link:
http://hubblesite.org/the_telescope/
During system checkout, it was determined that a design error had been made and Hubble's primary optics suffered from spherical aberration. This optical problem was corrected in 1993 on Servicing Mission 1 (SM1), which also resolved several other issues. Over Hubble's 25 year operating life, five servicing missions were conducted by space shuttle astronauts.
SM-1 – launched 2 Dec 1993, shuttle Endeavour
SM-2 – launched 11 Feb 1997, shuttle Discovery
SM-3A – launched 19 Dec 1999, shuttle Discovery
SM-3B – launched 1 Mar 2002, shuttle Columbia
SM-4 – launched 11 May 2009, shuttle Atlantis
The Hubble today is quite a different machine than the one launched in 1990. You can see details of each servicing mission at the following NASA website:
http://asd.gsfc.nasa.gov/archive/hubble/overview/timeline.html
NASA's Hubble mission website is at the following link:
http://www.nasa.gov/mission_pages/hubble/main/index.html
Here you have access to details about Hubble's 25-year mission, including an extensive photo gallery. NASA's official photo to commemorate the 25th anniversary is the following photo of the Westerlund 2 star cluster taken by Hubble's near-infrared Wide-Field Camera 3, which was installed during SM-4.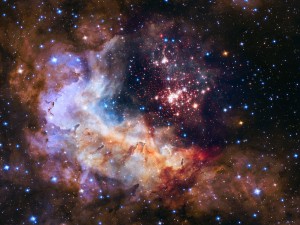 Source:  NASA