Peter Lobner
The 20 March 2015 Pete's Lynx post, "Scalability of 3-D printing (additive manufacturing)", addressed the use of 3-D printing to manufacture skin for treating burn victims, either by separately manufacturing skin for use in conventional grafts, or by directly printing new skin onto the burn wounds.
A new application for the use of manufactured human skin in cosmetics testing is being explored by San Diego bioprinting firm Organovo Holdings, Inc. and French cosmetics firm L'Oreal. This is the first potential application of this technology in the beauty industry, and it appears to offer an effective means to test new cosmetics and conduct other advanced research while complying with the 2013 European Union ban on animal testing.
The Organovo website is:
You can read the press release on the partnership between L'Oreal USA and Organovo to develop 3-D bioprinted skin tissue at the following link:
http://ir.organovo.com/news/press-releases/press-releases-details/2015/LOreal-USA-Announces-Research-Partnership-with-Organovo-to-Develop-3-D-Bioprinted-Skin-Tissue/default.aspx?_ga=1.173869475.1464967055.1432334566
The press release states that:
"…the collaboration will leverage Organovo's proprietary NovoGen Bioprinting Platform and L'Oreal's expertise in skin engineering to develop 3-D printed skin tissue for product evaluation and other areas of advanced research…… Organovo's 3D bioprinting enables the reproducible, automated creation of living human tissues that mimic the form and function of native tissues in the body."
Those of you who watch the BBC TV series Dr. Who may already see another application of this blend of bioprinting + cosmetics technology as a means for maintaining Lady Cassandra, who, after 708 plastic surgeries, has been reduced to a translucent piece of skin stretched across a frame.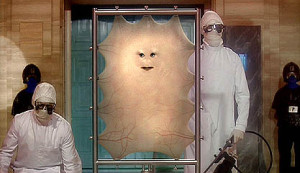 Source: Wikipedia