Peter Lobner
Updated 20 October 2019
FAST is being built in a remote region of China, in the southwestern province of Guizhou. Completion is planned for September 2016, at which time FAST will replace the similar 305 meter (1,000 ft) Arecibo Observatory in Puerto Rico as the world's largest radio telescope.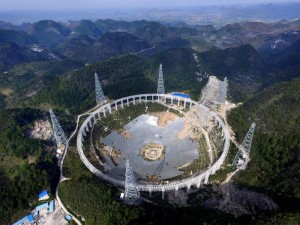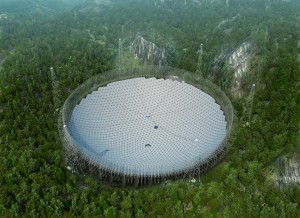 Source: FAST
Main features of FAST are:
The telescope is built in a natural karst depression
The 500 meter (1,640 ft) active main reflector is comprised of 4,600 triangular panels

directly corrects for spherical aberration
allows the telescope to be steered to view the sky within 40 degrees from zenith

The focus cabin suspended above the main reflector houses nine feeds for receivers covering a frequency range of 70MHz – 3 GHz
In comparison to Arecibo, FAST is expected to have the following performance parameters:

2 times greater sensitivity
5 – 10 times faster surveying speed
2 – 3 times greater sky coverage due to the steering capability of the active main reflector
Observation programs are expected to include the following:
Large scale neutral hydrogen survey

Will support studies such as dark matter and dark galaxies, large scale structures and dark energy, and galaxy formation and evolution

Detect interstellar molecules

The receiver bands of FAST are designed to cover OH (hydroxyl radical), CH3OH (methanol) and 12 other molecular lines

Survey the transient sky, including pulsar observations
Operate as part of the international very long baseline interferometry (VLBI) network
All residents within 3 miles of the new telescope (more than 9,000 people) are being relocated to create an electromagnetic "quiet zone" around the telescope.
You can download a fact sheet on the telescope at the following link:
http://www.cospa.ntu.edu.tw/aappsbulletin/data/19-2/33FAST.pdf
You can download a more detailed paper entitled, "The Five Hundred Meter Aperture Spherical Telescope (FAST) Project," which provides details on the telescope design, at the following link:
http://arxiv.org/pdf/1105.3794.pdf
An English language version of the FAST project website appears not to have been maintained since 2010, but can be accessed at the following link:
http://fast.bao.ac.cn/en/FAST.html
 5 July 2016 Update:  FAST construction complete
The Chinese government announced completion of FAST on 4 July 2016.  The project took roughly five years to complete and cost about $180 million.
 22 October 2019 Update:  FAST is operational
FAST Chief Engineer, JIANG Peng, announced that FAST has been open to Chinese astronomers since April 2019. After the National Construction Acceptance in September 2019, it is expected that FAST will be available for use by astronomers from other nations.   You can read more here:
https://www.universetoday.com/143346/chinas-fast-telescope-the-worlds-largest-single-radio-dish-telescope-is-now-fully-operational/
and here: