Peter Lobner
1. Background on Festo
Festo is a German multinational industrial control and automation company based in Esslingen am Neckar, near Stuttgart. The Festo website is here: https://www.festo.com/group/en/cms/10054.htm
Festo reports that they invest about 8% of their revenues in research and development. Festo's draws inspiration for some of its control and automation technology products from the natural world. To help facilitate this, Festo established the Bionic Learning Network, which is a research network linking Festo to universities, institutes, development companies and private inventors. A key goal of this network is to learn from nature and develop "new insights for technology and industrial applications"…. "in various fields, from safe automation and intelligent mechatronic solutions up to new drive and handling technologies, energy efficiency and lightweight construction."
One of the challenges taken on by the Bionic Learning Network was to decipher how birds fly and then develop robotic devices that can implement that knowledge and fly like a bird. Their first product was the 2011 SmartBird and their newest product is the 2020 BionicSwift. In this article we'll take a look at these two bionic birds and the significant advancements that Festo has made in just nine years.
2. SmartBird
On 24 March 2011, Festo issued a press release introducing their SmartBird flying bionic robot, which was one of their 2011 Bionic Learning Network projects. Festo reported:
"The research team from the family enterprise Festo has now, in 2011, succeeded in unraveling the mystery of bird flight. The key to its understanding is a unique movement that distinguishes SmartBird from all previous mechanical flapping wing constructions and allows the ultra-lightweight, powerful flight model to take off, fly and land autonomously."
"SmartBird flies, glides and sails through the air just like its natural model – the Herring Gull – with no additional drive mechanism. Its wings not only beat up and down, but also twist at specific angles. This is made possible by an active articulated torsional drive unit, which in combination with a complex control system makes for unprecedented efficiency in flight operation. Festo has thus succeeded for the first time in attaining an energy-efficient technical adaptation of this model from nature."
SmartBird measures 1.07 meters (42 in) long with a wingspan of 2.0 meters (79 in) and a weigh of 450 grams (16 ounces, 1 pound). This is about a 1.6X scale-up in the length and span of an actual Herring Gull, but at about one-third the weight. It is capable of autonomous takeoff, flight, and landing using just its wings, and it controls itself the same way birds do, by twisting its body, wings, and tail. SmartBird's propulsion system has a power requirement of 23 watts.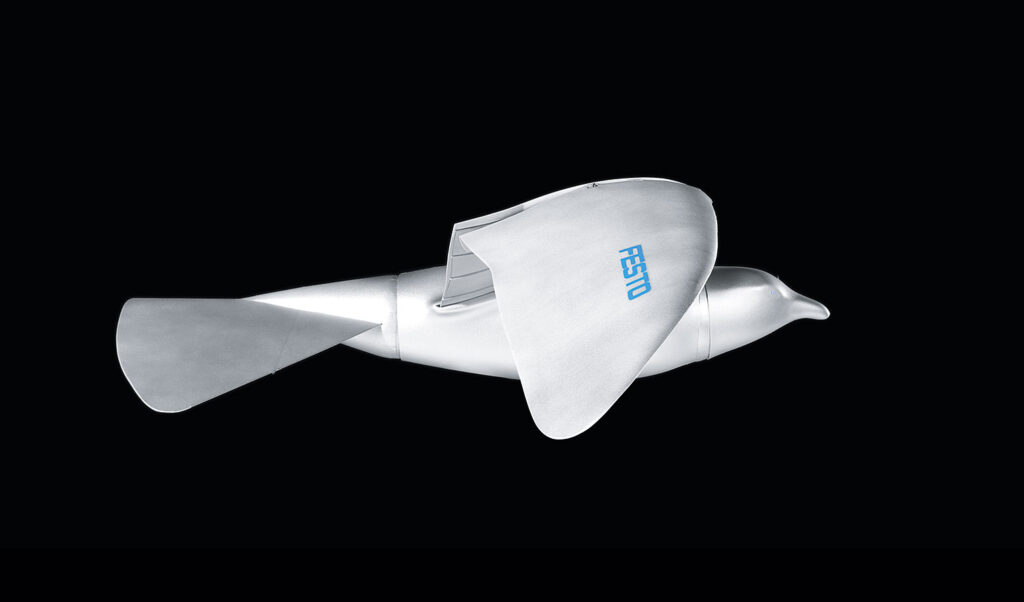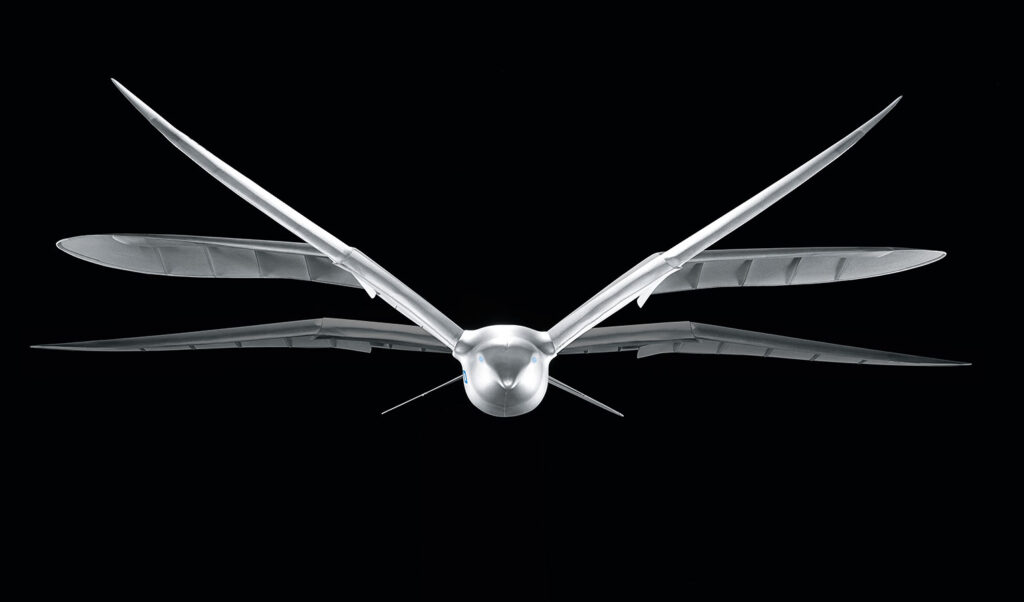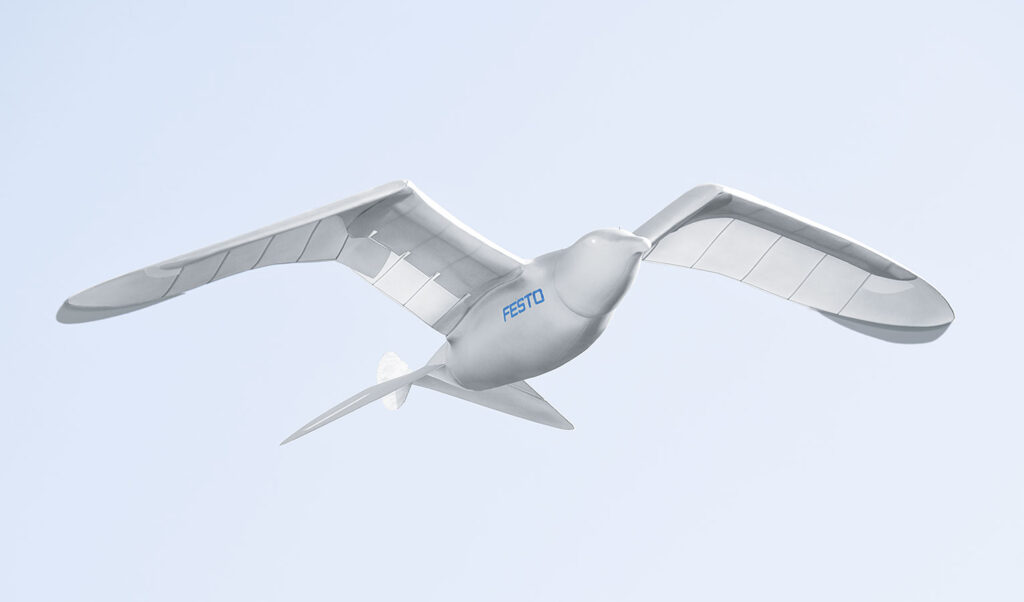 More information on SmartBird is on the Festo website here: https://www.festo.com/group/en/cms/10238.htm
You can watch a 2011 Festo video, "Festo – SmartBird," (1:47 minutes) on YouTube here: https://www.youtube.com/watch?v=nnR8fDW3Ilo
3. Bionic Swift
On 1 July 2020, Festo introduced the BionicSwift as their latest ultra light flying bionic robot that mimics how actual birds fly.
The BionicSwift, inspired by a Common Swift, measures 44.5 cm (17.5 in) long with a wingspan of 68 cm (26.7 in) and a weight of just 42 grams (1.5 ounces). It's approximately a 2X scale-up of a Common Swift, but still a remarkably compact, yet complex flying machine with aerodynamic plumage that closely replicates the flight feathers on an actual Swift. The 2011 SmartBird was more than twice the physical size and ten times heavier.
The BionicSwift is agile, nimble and can even fly loops and tight turns. Festo reports: "Due to this close-to-nature replica of the wings, the BionicSwifts have a better flight profile than previous wing-beating drives." Compare the complex, feathered wing structure in the following Festo photos of the BionicSwift with the previous photos showing the simpler, solid wing structure of the 2011 SmartBird.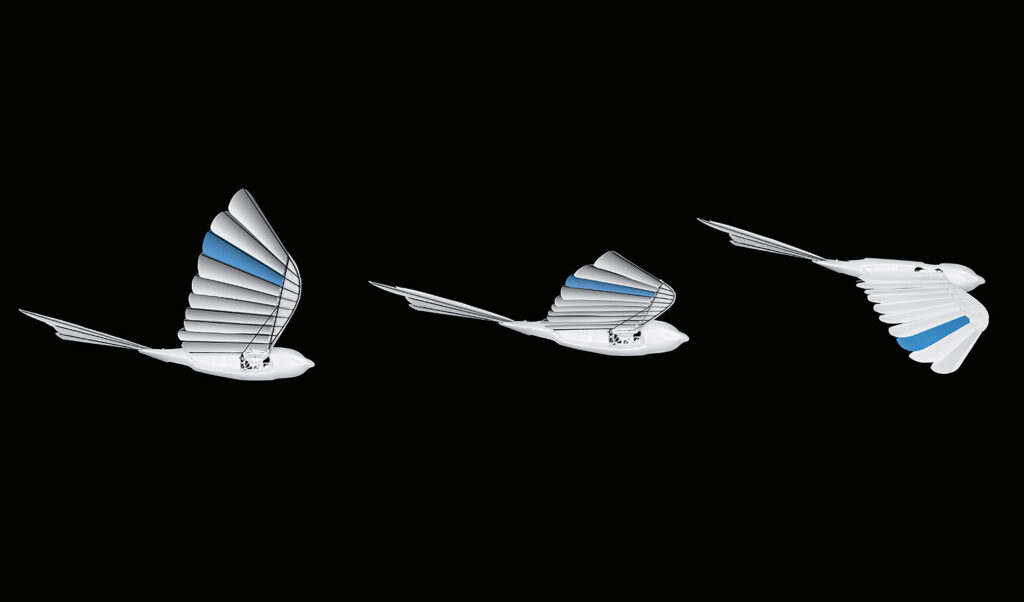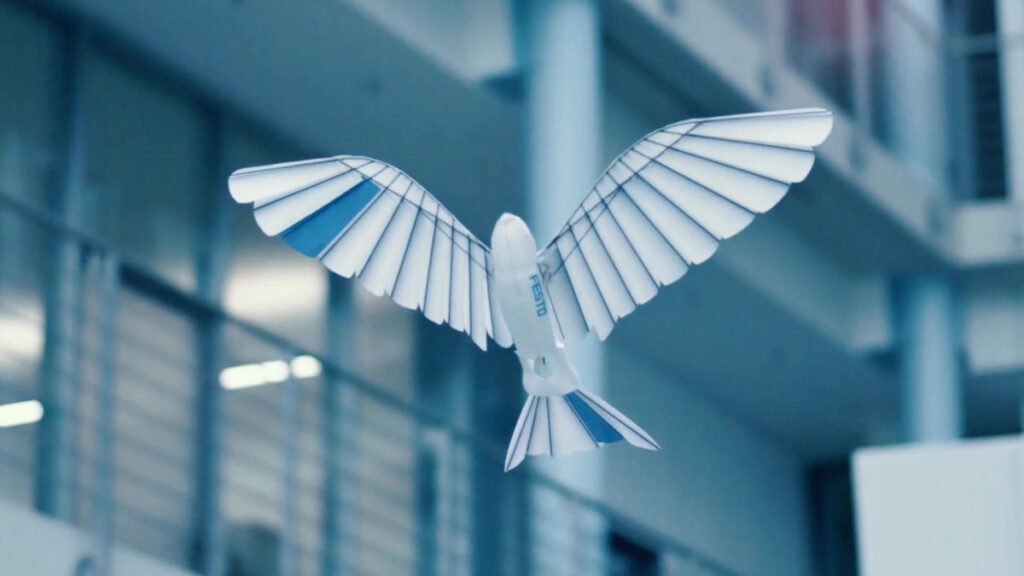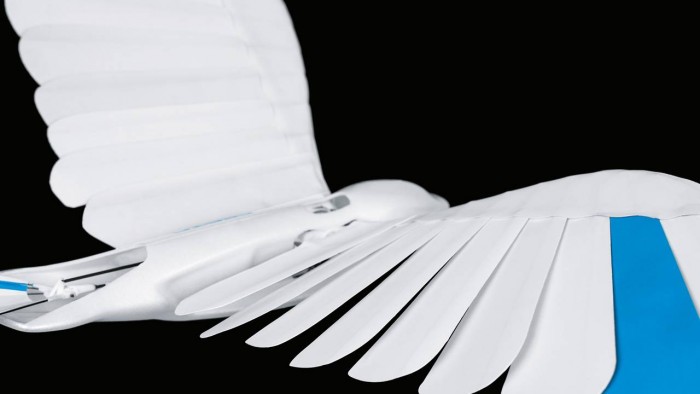 A BionicSwift can fly singly or in coordinated flight with a group of other BionicSwifts. Festo describes how this works: "Radio-based indoor GPS with ultra wideband technology (UWB) enables the coordinated and safe flying of the BionicSwifts. For this purpose, several radio modules are installed in one room. These anchors then locate each other and define the controlled airspace. Each robotic bird is also equipped with a radio marker. This sends signals to the anchors, which can then locate the exact position of the bird and send the collected data to a central master computer, which acts as a navigation system." Flying time is about seven minutes per battery charge.
More information on the Bionic Swift is on the Festo website here: https://www.festo.com/group/en/cms/13787.htm
You also can watch a 2020 Festo video, "Festo – BionicSwift," (1:45 minutes) on YouTube here: https://www.youtube.com/watch?v=v8fgc77dwwg
4. For more information about other Festo bionic creations:
I encourage you to visit the Festo BionIc Learning Network webpage at the following link and browse the resources available for the many intriguing projects. https://www.festo.com/group/en/cms/10156.htm
On this webpage you'll find a series of links listed under the heading "More Projects," which will introduce you to the wide range of Bionic Learning Network projects since 2006.
You also can watch the following YouTube short videos of Festo's many bionic creations: