Peter Lobner
Thanks to Dave Groce for sending me the following link to the Caltech-Cornell Numerical Relativity collaboration; Simulating eXtreme Spacetimes (SXS):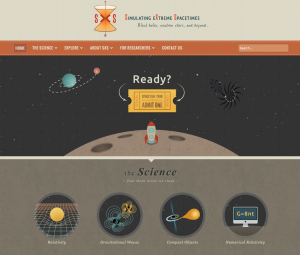 Source: SXS
From the actual website (not the image above), click on the yellow "Admit One" ticket and you're on your way.
Under the "Movies" tab, you'll find many video simulations that help visualizes a range of interactions between two black holes and between a black hole and a neutron star. Following is a direct link:
http://www.black-holes.org/explore/movies
A movie visualizing GW150914, the first ever gravitational wave detection on 14 September 2015, is at the following SXS link:
https://www.black-holes.org/gw150914
At the above link, you also can listen to the sound of the GW150914 "in-spiral" event (two black holes spiraling in on each other).  You can read more about the detection of GW150914 in my 11 February 2016 post.
On the "Sounds" tab on the SXS website, you'll find that different types of major cosmic events are expected to emit gravitational waves with waveforms that will help characterize the original event. You can listen to the expected sounds from a variety of extreme cosmic events at the following SXS link:
http://www.black-holes.org/explore/sounds
Have fun exploring SXS.