Peter Lobner
In previous posts on 24 May 2015 and 28 June 2016, I reported on the TOP500 rankings of the world's supercomputers.
In June 2013, China's Tianhe-2 supercomputer at the National Supercomputer Center in Guangzho topped this this worldwide ranking with an Rmax Linpack score of 33 petaflops (1 petaflops = 1015  floating-point operations per second) and retained the first place position for two years. In June 2016, the new leader was another Chinese supercomputer, the Sunway TaihuLight at the National Supercomputer Center in Wuxi. TaihuLight delivered an Rmax Linpack score of 93 petaflops and remained at the top of the worldwide ranking for two years, until it was eclipsed in June 2018 by the US Summit supercomputer, then with an Rmax rating of 122.3 petaflops.
In the latest TOP500 ranking, the new leaders are two US supercomputers:  Summit (#1) and Sierra (#2).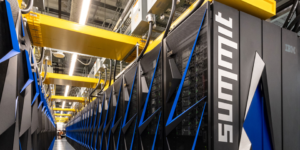 Summit supercomputer.  Source: NVIDIA
The IBM Summit improved its past Linpack score to achieve an Rmax of 143.5 petaflops in the current ranking.  Summit is located at the Department of Energy (DOE) Oak Ridge National Laboratory (ORNL) in Tennessee.
2,397,824 cores
873 megawatts peak power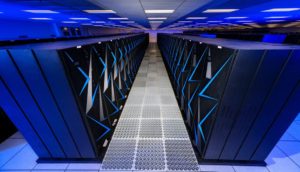 Sierra supercomputer. Source:  Lawrence Livermore National Laboratory / Randy Wong
The IBM Sierra also improved its past Linpack score to achieve an Rmax of 94.64 petaflops / second and move into second place, marginally ahead of China's TaihuLight.  Sierra is located at the DOE Lawrence Livermore National Laboratory (LLNL) in California.
1,572,480 cores
438 megawatts peak power
The Summit and Sierra supercomputer cores are IBM POWER9 central processing units (CPUs) and NVIDIA V100 graphic processing units (GPUs).   NVIDIA claims that its GPUs are delivering 95% of Summit's performance. Both supercomputers use a Linux operating system.
China's Sunway TaihuLight was ranked 3rd, and Tianhe-2A was ranked 4th.  A total of five DOE supercomputers were in the top 10 positions.
You'll find the complete 52ndedition (November 2018) TOP500 ranking here:
https://www.top500.org/lists/2018/11/
20 February 2019 Update:  Los Alamos National Laboratory (LANL) plans new supercomputer
The TOP500 ranking places LANL's Trinity supercomputer (a Cray XC40) as the #6 fastest supercomputer in the world, but its performance (Rmax of 20.16 petaflops) is far below that of the #1 Summit supercomputer at Oak Ridge national Laboratory and the #2 Sierra supercomputer at Lawrence Livermore National Laboratory.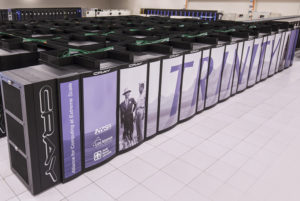 Source:  LANL
Not to be outdone, LANL issued a request for proposal (RFP) in February 2019 for a new supercomputer, to be named Crossroads, to support the lab's missions for the National Nuclear Security Administration (NNSA).  A LANL spokesperson reported that, "High performance computing across the NNSA complex is used to assure the safety, security and effectiveness of the U.S. nuclear deterrent; to analyze and predict the performance, safety, and reliability of nuclear weapons and certify their functionality."  Responses to the RFP are due by 18 March 2019.  Crossroads is expected to go online in 2021.