Peter Lobner
On 15 September 2016, the National Snow and Ice Data Center (NSIDC) in Boulder, CO reported their preliminary assessment that the Arctic sea ice minimum for this year was reached on 10 September 2016.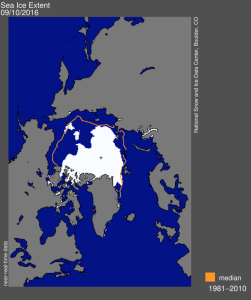 Source: NSIDC
The minimum extent of the Arctic sea ice on 10 September 2016 was 4.14 million square kilometers (1.60 million square miles). This is the white area in the map above. The orange line on this map shows the 1981 to 2010 median extent of the Arctic sea ice for that day.
There were extensive areas of open water on the Northern Sea Route along the Arctic coast of Russia (the Beaufort and Chukchi seas, and in the Laptev and East Siberian seas).
In contrast, there was much less open water on parts of the Northwest Passage along the Arctic coast of Canada (around Banks and Victoria Islands).
The 2016 minimum tied with 2007 for the second lowest Arctic sea ice minimum on record.
The historic Arctic sea ice minimum, which occurred in 2012, was 3.39 million square kilometers (1.31 million square miles); about 18% less than in 2016 [750,000 square kilometers (290,000 square miles) less than in 2016].
You can read the NSIDC preliminary report on the 2016 Arctic sea ice minimum at the following link:
https://nsidc.org/arcticseaicenews/
An historic event in the Arctic occurred in September 2016 when the commercial cruise liner Crystal Serenity, escorted by the RRS Shackleton, made the first transit of the Northwest Passage by a cruise liner. The voyage originated in Vancouver, Canada and arrived in New York City on 16 September 2016. The timing of this Arctic cruise coincided well with this year's minimum sea ice conditions. See my 30 August 2016 post for more details on the Crystal Serenity's historic Arctic voyage.