Peter Lobner
The international robotics community has turned out in force for the DARPA Robotics Challenge (DRC) Finals, a competition of robots and their human supervisors to be held June 5-6, 2015, at Fairplex in Pomona, Calif., outside of Los Angeles. In the competition, human-robot teams will be tested on capabilities that could enable them to provide assistance in future natural and man-made disasters. Fourteen new teams from Germany, Hong Kong, Italy, Japan, the People's Republic of China, South Korea, and the United States qualified to join 11 previously announced teams. In total, 25 teams will now vie for a chance to win one of three cash prizes totaling $3.5 million at the DRC Finals.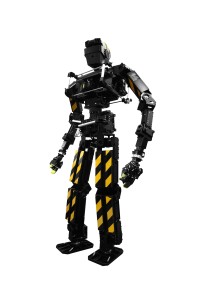 Team ROBOTIS entry from Korea
You can see photos of other competitors and read more about the challenge at the following links:
http://www.darpa.mil/NewsEvents/Releases/2015/03/05.aspx
and
http://www.theroboticschallenge.org
The Cylons are coming!