Peter Lobner
If you have been reading the Pete's Lynx blog for a while, then you should be familiar with the remarkable team that created the Solar Impulse 2 aircraft and is attempting to make the first flight around the world on solar power.  The planned route is shown in the following map.

Image source: Solar Impulse
I refer you to my following posts for background information:
10 March 2015: Solar Impulse 2 Designed for Around-the-World Flight on Solar Power
3 July 2015: Solar Impulse 2 Completes Record Solo, Non-Stop, Solar-Powered Flight from Nagoya, Japan to Oahu, Hawaii
27 February 2016: Solar Impulse 2 Preparing for the Next Leg of its Around-the-World Journey
Picking off where these stories left off in Hawaii, Solar Impulse 2 has made four more flights:
21 – 24 April 2016: Hawaii to Moffett Field, near San Francisco, CA; 2,539 miles (4,086 km) in 62 h 29 m
2 – 3 May 2016: San Francisco to Phoenix, AZ; 692 miles (1,113 km) in 15 h 52 m
12 – 13 May 2016: Phoenix to Tulsa, OK; 976 miles (1,570 km) in 18 h 10 m
21 – 22 May 2016: Tulsa to Dayton, OH; 692 miles (1,113 km) in 16 h 34 m
From the above distances and flight times, the average speed of Solar Impulse 2 across the USA was a stately 43.6 mph (70.2 kph).  Except for the arrival in the Bay Area, I think the USA segments of the Solar Impulse 2 mission have been given remarkably little coverage by the mainstream media.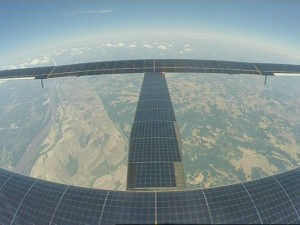 Image source: Solar Impulse
Regarding the selection of Dayton as a destination for Solar Impulse 2, the team posted the following:
"On his way to Dayton, Ohio, hometown of Wilbur and Orville Wright, André Borschberg pays tribute to pioneering spirit, 113 years after the two brothers succeeded in flying the first power-driven aircraft heavier than air.
To develop their wing warping concept, the two inventors used their intuition and observation of nature to think out of the box. They defied current knowledge at a time where all experts said it would be impossible. When in 1903, their achievement marked the beginning of modern aviation; they did not suspect that a century later, two pioneers would follow in their footsteps, rejecting all dogmas to fly an airplane around the world without a drop of fuel.
This flight reunites explorers who defied the impossible to give the world hope, audacious men who believed in their dream enough to make it a reality."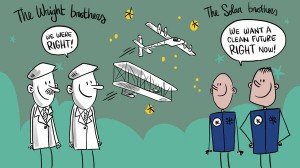 Image source: Solar Impulse.
You can see in the above route map that future destinations are not precisely defined. Flight schedules and specific routes are selected with due consideration for en-route weather.
The Solar Impulse 2 team announced that its next flight is scheduled to take off from Dayton on 24 May and make an 18-hour flight to the Lehigh Valley Airport in Pennsylvania. Following that, the next flight is expected to be to an airport near New York City.
If you haven't been following the flight of Solar Impulse 2 across the USA, I hope you will start now. This is a remarkable aeronautical mission and it is happening right now. You can check out the Solar Impulse website at:
If you wish, you can navigate to and sign up for e-mail updates on future flights. Here's the direct link:
http://www.solarimpulse.com/subscribe
With these updates, you also will be able to access live video feeds during the flights. OK, the videos are mostly pretty boring, but they are remarkable nonetheless because of the mission you have an opportunity to watch, even briefly, in real time.
There's much more slow, steady flying to come before Solar Impulse 2 completes its around-the-world journey back to Abu Dhabi. I send my best wishes for a successful mission to the brave pilots, André Borschberg and Bertrand Piccard, and to the entire Solar Impulse 2 team.