Peter Lobner
An architectural trend in New York City (NYC) is the construction of very tall, very slender residential / multi-use towers on small building sites in the heart of the city. This trend is driven by the very high cost and limited availability of large building sites. This trend is enabled by zoning laws and the following technical factors:
Materials: Use of higher-strength steel, concrete and composite structures permits lighter / stronger structures than commonly found in earlier generation skyscrapers.
Advanced design analysis and simulation: Advances in structural modeling, computing power, and simulation permit a more detailed engineering analysis of the building's response to static and dynamic loads and optimization of the design for the specified conditions.
Aerodynamic shaping: Incorporation of shapes and design details that break up the wind flow around a building help reduce wind loads that can cause swaying and vortex shedding that can shake / vibrate a building.
Damping devices: Devices such as mass dampers (moving weights) and slosh dampers (large tanks of water) are employed to counteract the building's natural response to external forces. For example, mass dampers installed on an upper floor can be tuned to move out of phase with wind-induced forces and thereby reduce sway. Slosh dampers can help absorb vibrations. Both can help make the building more comfortable for its occupants, particularly on the upper floors.
New York City's Skyscraper Museum (https://skyscraper.org) defines "slenderness" as the ratio of the width of a building's base to its height.
The 1,250 ft. (381 meters) tall Empire State Building (not including antenna) occupies a full city block site measuring 424 x 187 ft. (129.2 x 57 meters), for a slenderness ratio of 1:2.95.
The original World Trade Center (WTC) north tower (not including antenna) was 1,368 ft. (417 meters) tall and measured 209 ft. (63.7 meters) on a side, yielding a slenderness ratio of 1:6.5.
New "super-slender" towers in NYC have slenderness ratios up to 1:23. At this slenderness ratio, a 12-inch ruler standing on end would be slightly more than 1/2 inch wide.
Visit the Skyscraper Museum's website and check out their 2013 – 2014 exhibition, "SKY HIGH & the logic of luxury."  The museum describes this exhibit as follows: "SKY HIGH exhibit examines the recent proliferation of super-slim, ultra-luxury residential towers on the rise in Manhattan. These pencil-thin buildings-all 50 to 90+ stories-constitute a new type of skyscraper in a city where tall, slender structures have a long history." The direct link to this exhibition is here: http://www.skyscraper.org/EXHIBITIONS/TEN_TOPS/slender.php
The top three NYC "super-slenders" are discussed below. Also discussed below is a notable "super-slender" building being developed in Miami.
Rafael Vainly & SLCE Architects: Residential tower, 432 Park Avenue, New York City
This 96-floor residential tower in mid-town Manhattan was built between 2012 and 2015, and, at a height of 1,396 ft. (426 meters), is one of the tallest buildings in New York City and currently is the tallest residential tower in the Western hemisphere. The highest occupied floor is almost a quarter mile up, at 1,287 ft. (392 meters).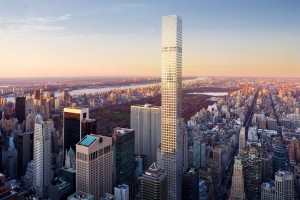 Image source: StreetEasy.com
This square building measures 93 ft. (28 meters) on a side (one foot less than the length of a basketball court), giving it a slenderness ratio of 1:15.
You can explore this skyscraper at the following website:
http://www.architecturebeast.com/432-park-avenue-skyscraper/
This site includes the following diagram, which compares (L to R) the new One WTC, the 432 Park Ave tower, one of the original WTC towers, and the Empire State Building.  Note how slender the 432 Park Ave tower is relative to the conventional skyscrapers.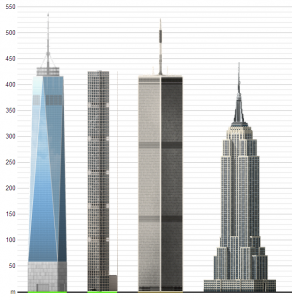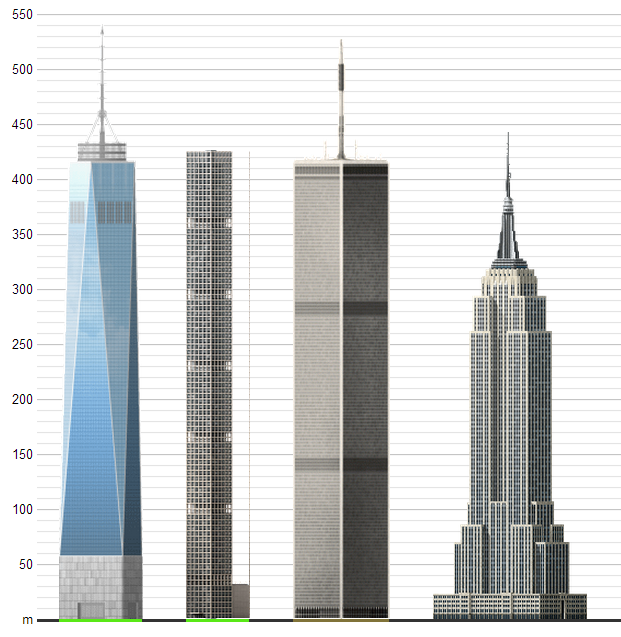 In case you're interested, you can find apartment listings for sale or rent at the following website:
http://streeteasy.com/building/432-park-avenue
On the date I wrote this article, the least expensive apartment (6 rooms, 3 bedrooms, 4-1/2 baths) was selling for $17.5M on the lowly 36th floor. A penthouse on the 88th floor was under contract for $76.5M.
SHoP Architects: Residential tower, 111 West 57th Street, New York City
This building is under construction and will be an 80-floor, 1,438 ft. (438 meter) tall, residential tower when it is completed in 2018. With a slenderness ratio of 1:23, this will be the most slender skyscraper in the world. The square cross-section of the building steps back at about 2/3 height to give the top of the building a chisel-like profile.
SHoP Architects describes this project as:
"The design aims to bring back the quality, materiality and proportions of historic NYC towers, while taking advantage of the latest technology to push the limits of engineering and fabrication."
To improve stability in high winds and seismic events, the building includes an 800-ton tuned mass damper.
You can explore this cutting-edge skyscraper at the following link: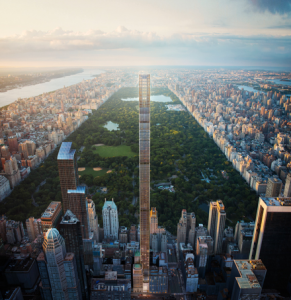 Image source: SHoP Architects
Adrian Smith + Gordon Gill Architecture: Central Park Tower, 225 West 57th Street, New York City
This is a mixed-use, irregularly shaped 99-floor skyscraper that will be 1,550 ft. (472 m) tall when it is completed in 2019. The highest occupied floor will be more than a quarter mile high, at 1,450 ft. (442 meters).
The developers purchased "air rights" from a neighboring property owner to permit part of the Central Park Tower to be cantilevered over the neighboring property, as shown in the following figures.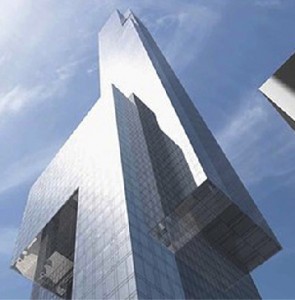 Image source: Adrian Smith + Gordon Gill Architecture
The deck at the top of the building will be 182 ft. (55.5 meters) taller than the new One World Trade Center, which is still considered to be taller because of its antenna structure on the roof. This height comparison can be seen in the following diagram, which also highlights how slender the Central Park Tower is in comparison to One WTC.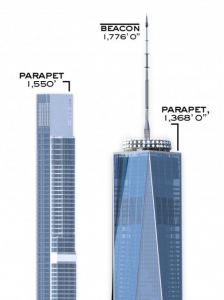 Image source: adapted from New York YIMBY
SHoP Architects: Miami Innovation Tower, 1031 NW First Ave, Miami
The trend toward tall, slender towers is not limited to NYC. Another stunning tall, slender mixed-use skyscraper is SHoP's twisting 633 ft. (193 meters) Miami Innovation Tower planned for Miami's Park West neighborhood. This skyscraper will be built as part of a four block "Miami Innovation District," which is intended to attract high-tech businesses to the mixed-use neighborhood.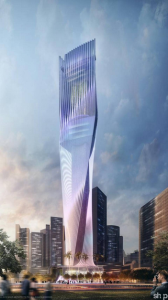 Image source: SHoP Architects
The tower incorporates a fully integrated "active skin" that provides lighting and a messaging capability on the surface of the building. The Miami Herald reported:
"Unlike traditional billboard signage, the mesh-like messaging technologies are in fact integrated completely into the complex, pleated form of the tower's exterior. The result is an ethereal, highly-transparent surface, open to the slender concrete tower core and views of the city and the sky beyond."
You will find more information on the Miami Innovation Tower, and its integration in the Innovation District at the following link:
http://innovatemiami.com/about/tower
Other skyscrapers around the world
If you want to know more about other skyscrapers around the world, I refer you to the Council on Tall Buildings and Urban Habitat (CTBUH). Their home page is at the following link:
From here, you can navigate to their Tall Buildings Information & Resources, including The Skyscraper Center, which contains the Global Tall Building Database. The direct link to the Skyscraper Center is:
Have fun exploring!