Peter Lobner
On 3 April 2019, Verizon reported that it turned on its 5G networks in parts of Chicago and Minneapolis, becoming the first wireless carrier to deliver 5G service to U.S. customers with compatible wireless devices in selected urban areas. In its initial 5G service, Verizon is offering an average data rate of 450 Mbps (Megabits per second), with plans to achieve higher speeds as the network rollout continues and service matures. Much of the 5G hype has been on delivering data rates at or above 1 Gbps (Gigabits per second = 1,000 Megabits per second).
In comparison, Verizon reports that it currently delivers 4G LTE service in 500 markets. This service is "able to handle download speeds between 5 and 12 Mbps …. and upload speeds between 2 and 5 Mbps, with peak download speeds approaching 50 Mbps." Clearly, even Verizon's initial 5G data rate is a big improvement over 4G LTE.
At the present time, only one mobile phone works with Verizon's initial 5G service: the Moto Z3 with an attachment called the 5G Moto Mod. It is anticipated that the Samsung's S10 5G smartphone will be the first all-new 5G mobile phone to hit the market, likely later this spring. You'll find details on this phone here:
https://www.samsung.com/us/mobile/galaxy-s10/
Other U.S. wireless carriers, including AT&T, Sprint and T-Mobile US, have announced that they plan to start delivering 5G service later in 2019.
5G technology standards
Wireless carriers and suppliers with a stake in 5G are engaged in the processes for developing international standards. However, with no firm 5G technology standard truly in place at this time, the market is still figuring out what 5G features and functionalities will be offered, how they will be delivered, and when they will be ready for commercial introduction. The range of 5G functionalities being developed are shown in the following ITU diagram.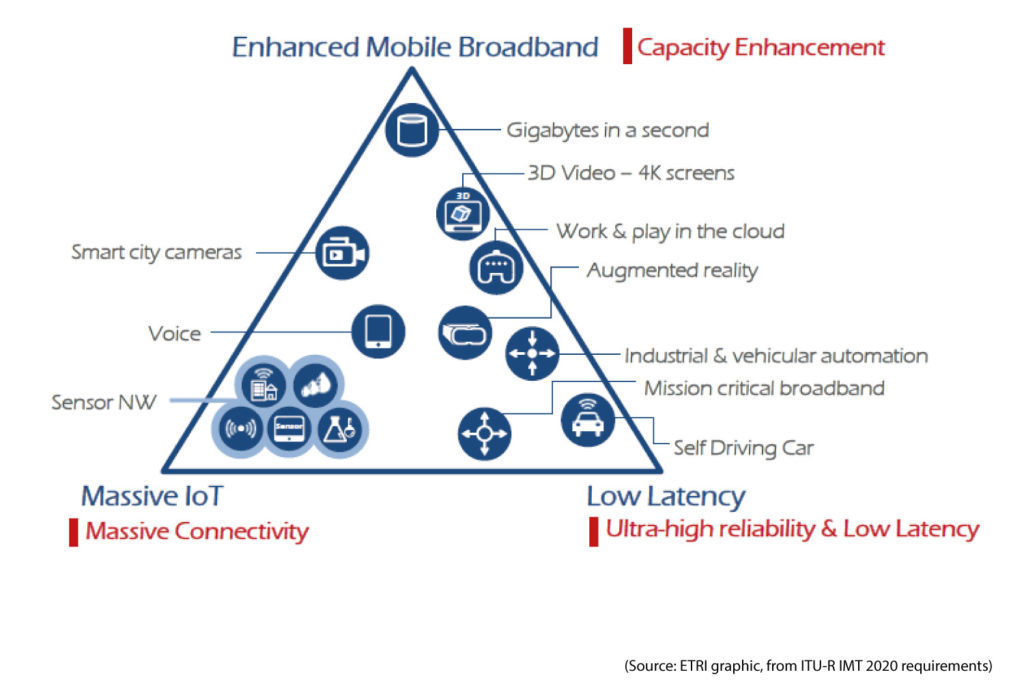 Verizon's initial 5G mobile phone promotion is focusing on data speed and low latency.
The primary 5G standards bodies involved in developing the international standards are the 3rd Generation Partnership Project (3GPP), the Internet Engineering Task Force (IETF), and the International Telecommunication Union (ITU). A key international standard, 5G/IMT-2020, is expected to be issued in (as you might expect) 2020.
You'll find a good description of 5G technology by ITU in a February 2018 presentation, "Key features and requirements of 5G/IMT-2020 networks," which you will find at the following link:
https://www.itu.int/en/ITU-D/Regional-Presence/ArabStates/Documents/events/2018/RDF/Workshop%20Presentations/Session1/5G-%20IMT2020-presentation-Marco-Carugi-final-reduced.pdf
DARPA Spectrum Collaboration Challenge 2 (SC2)
In my 6 June 2016 post, I reported on SC2, which eventually could benefit 5G service by:
"…developing a new wireless paradigm of collaborative, local, real-time decision-making where radio networks will autonomously collaborate and reason about how to share the RF (radio frequency) spectrum."
SC2 is continuing into 2019. Fourteen teams have qualified for Phase 3 of the competition, which will culminate in the Spectrum Collaboration Challenge Championship Event, which will be held on 23 October 2019 in conjunction with the 2019 Mobile World Congress in Los Angeles, CA. You can follow SC2 news here:
https://www.spectrumcollaborationchallenge.com/media/
If SC2 is successful and can be implemented commercially, it would enable more efficient use of the RF bandwidth assigned for use by 5G systems.
For more background information on 5G, see the following Lyncean posts: