Peter Lobner
After a two-year shutdown for modifications that are expected to nearly double the maximum energy of LHC to 13 TeV, CERN has completed a long re-test process and restored LHC to operation. You can read about the restart process at the following link:
http://home.web.cern.ch/about/updates/2014/06/cern-announces-lhc-restart-schedule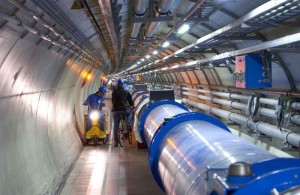 Source: CERN
Re-start was delayed by an intermittent short circuit that had to be resolved after the superconducting machine had already been cooled down. Maintenance and repair is time-consuming when a superconducting component or system is involved, since the equipment must be warmed up before it can be serviced, and then cooled down again to 1.9 degrees Celsius before LHC operation can resume.
With the LHC back in operation, the search for more Higgs Bosons and signs of supersymmetry continues. Read more about LHC operations at the following link:
http://www.cnet.com/news/after-refit-lhc-accelerator-resumes-hunt-for-new-higgs/
You also might want to review Maria Spiropulo's 27 August 2014 Lyncean presentation: "The Future of the Higgs Boson." You can find this presentation in the Past Meetings section of this Lyncean website.