Updated 4 January 2019
Peter Lobner
In my 9 September 2015 post, I reviewed the current state of the U.S. icebreaking fleet. My closing comments were:
"The U.S. is well behind the power curve for conducting operations in the Arctic that require icebreaker support. Even with a well-funded new U.S. icebreaker construction program, it will take a decade before the first new ship is ready for service, and by that time, it probably will be taking the place of Polar Star, which will be retiring or entering a more comprehensive refurbishment program."
You can read my 2015 post here:
https://lynceans.org/all-posts/the-sad-state-of-affairs-of-the-u-s-icebreaking-fleet-and-implications-for-future-u-s-arctic-operations/
Alternatives for modernizing existing U.S. polar icebreakers to extend their operating lives and options for procuring new polar icebreakers were described in the Congressional Research Service report, "Coast Guard Polar icebreaker Modernization: Background and Issues for Congress," dated 2 September 2015. You can download that report here:
https://news.usni.org/wp-content/uploads/2015/09/RL34391.pdf
While the Coast Guard Authorization Act of 2015 made funds available for "pre-acquisition" activities for a new polar icebreaker, little action has been taken to start procuring new polar icebreakers for the USCG. This Act required the Secretary of the Department of Homeland Security (DHS) to engage the National Academies (ironically, not the Coast Guard) in "an assessment of alternative strategies for minimizing the costs incurred by the federal government in procuring and operating heavy polar icebreakers."
The DHS and USCG issued the "Coast Guard Mission Needs Statement," on 8 January 2016 as a report to Congress. This report briefly addressed polar ice operations in Section 11 and in Appendix B acknowledged two key roles for polar icebreakers:
The USCG provides surface access to polar regions for all Department of Defense (DoD) activities and logistical support for remote operating facilities.
The USCG supports the National Science Foundation's research activities in Antarctica by providing heavy icebreaking support of the annual re-supply missions to McMurdo Sound. Additionally, USCG supports the annual NSF scientific mission in the Arctic.
This report to Congress failed to identify deficiencies in the USCG polar icebreaker "fleet" relative to these defined missions (i.e., the USCG has only one operational, aging heavy polar icebreaker) and was silent on the matter of procuring new polar icebreakers. You can download the 2016 "Coast Guard Mission Needs Statement" here:
https://www.dhs.gov/sites/default/files/publications/United%20States%20Coast%20Guard%20-%20Mission%20Needs%20Statement%20FY%202015.pdf
On 22 February 2017, the USCG made some progress when it awarded five, one-year, firm fixed-price contracts with a combined value of $20 M for heavy polar icebreaker design studies and analysis. The USCG reported that, "The heavy polar icebreaker integrated program office, staffed by Coast Guard and U.S. Navy personnel, will use the results of the studies to refine and validate the draft heavy polar icebreaker system specifications." The USCG press release regarding this modest design study procurement is here:
http://mariners.coastguard.dodlive.mil/2017/02/23/2222017-five-firm-fixed-price-contracts-awarded-for-heavy-polar-icebreaker-design-studies-analysis/
The National Academies finally issued their assessment of U.S. polar icebreaker needs in a letter report to the Secretary of Homeland Security dated 11 July 2017. The report, entitled, "Acquisition and Operation of Polar Icebreakers: Fulfilling the Nation's Needs." offered the following findings and recommendations:
Finding: The United States has insufficient assets to protect its interests, implement U.S. policy, execute its laws, and meet its obligations in the Arctic and Antarctic because it lacks adequate icebreaking capability.
Recommendation: The United States Congress should fund the construction of four polar icebreakers of common design that would be owned and operated by the United States Coast Guard (USCG).
Recommendation: USCG should follow an acquisition strategy that includes block buy contracting with a fixed price incentive fee contract and take other measures to ensure best value for investment of public funds.
Finding: In developing its independent concept design and cost estimates, the committee determined that the cost estimated by USCG for the heavy icebreakers are reasonable (average cost per ship of about $791 million for a 4-ship buy).
Finding: Operating costs of new polar icebreakers are expected to be lower than those of the vessels they replace.
Recommendation: USCG should ensure that the common polar icebreaker design is science ready and that one of the ships has full science capability. (This means that the design includes critical features and structures that cannot be cost-effectively retrofit after construction).
Finding: The nation is at risk of losing its heavy icebreaking capability – experiencing a critical capacity gap – as the Polar Star approaches the end of its extended service life, currently estimated to be 3 to 7 years (i.e., sometime between 2020 and 2024).
Recommendation: USCG should keep the Polar Star operational by implementing an enhanced maintenance program (EMP) until at least two new polar icebreakers are commissioned.
You can download this National Academies letter report here:
https://www.nap.edu/catalog/24834/acquisition-and-operation-of-polar-icebreakers-fulfilling-the-nations-needs
There has been a long history of studies that have shown the need for additional U.S. polar icebreakers. This National Academies letter report provides a clear message to DHS and Congress that action is needed now.
In the meantime, in Russia:
To help put the call to action to modernize and expand the U.S. polar icebreaking capability in perspective, let's take a look at what's happening in Russia.
The Russian state-owned nuclear icebreaker fleet operator, Rosatomflot, is scheduled to commission the world's largest nuclear-powered icebreaker in 2019. The Arktika is the first of the new Project 22220 LK-60Ya class of nuclear-powered polar icebreakers being built to replace Russia's existing, aging fleet of nuclear icebreakers. The LK-60Ya is a dual-draught design that enables these ships to operate as heavy polar icebreakers in Arctic waters and also operate in the shallower mouths of polar rivers. Vessel displacement is about 37,000 tons (33,540 tonnes) with water ballast and about 28,050 tons (25,450 tonnes) without water ballast. When ballasted, LK-60Ya icebreakers will be able to operate in Arctic ice of any thickness up to 4.5 meters (15 feet).
The principal task for the new LK-60Ya icebreakers will be to clear passages for ship traffic on the Northern Sea route, which runs along the Russian Arctic coast from the Kara Sea to the Bering Strait. The second and third ships in this class, Sibir and Ural, are under construction at the Baltic Shipyard in St. Petersburg and are expected to enter service in 2020 and 2021, respectively.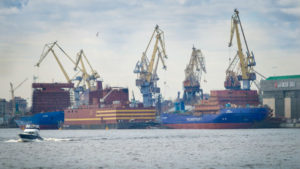 Arktika (on right), Akademik Lomonosov floating nuclear power plant (center), and Sibir (on left) dockside at Baltic Shipyard, St. Petersburg, Russia, October 2017: Source: Charles Diggers / maritime-executive.com
In June 2016, Russia launched the first of four diesel-electric powered 6,000 ton Project 21180 icebreakers at the Admiralty Shipyard in St. Petersburg. The Ilya Muromets, which is expected to be delivered in November 2017, will be the Russian Navy's first new military icebreaker in about 50 years. It is designed to be capable of breaking ice with a thickness up to 1 meter (3.3 feet). The Project 21180 icebreaker's primary mission is to provide icebreaking services for the Russian naval forces deployed in the Arctic region and the Far East. The U.S. has no counterpart to this class of Arctic vessel.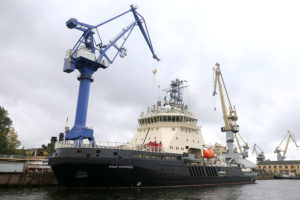 Project 21180 military icebreaker Ilya Muromets. Source: The Baltic Post
You'll find more information on Russia's Project 21180-class icebreakers here:
http://www.naval-technology.com/projects/project-21180-class-icebreakers/
Russia's 7,000 – 8,500 ton diesel-electric Project 23550 military icebreaking patrol vessels (corvettes) will be armed combatant vessels capable of breaking ice with a thickness up to 1.7 meters (5.6 feet). The keel for the lead ship, Ivan Papanin, was laid down at the Admiralty Shipyard in St. Petersburg on 19 April 2017. Construction time is expected to be about 36 month, with Ivan Papanin being commissioned in 2020. The second ship in this class should enter service about one year later. Both corvettes are expected to be armed with a mid-size naval gun (76 mm to 100 mm have been reported), containerized cruise missiles, and an anti-submarine capable helicopter (i.e., Kamov Ka-27 type). The U.S. has no counterpart to this class of Arctic vessel.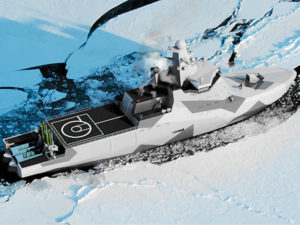 Project 23550 icebreaking patrol vessel. Source: naval-technology.com
You'll find more information on Russia's Project 23550-class icebreaking patrol vessels here:
http://www.naval-technology.com/projects/ivan-papanin-project-23550-class-arctic-patrol-vessels/
In conclusion:
It appears to me that Russia and the U.S. have very different visions for how they will conduct and support future civilian and military operations that require surface access in the Arctic region. The Russians currently have a strong polar icebreaking capability to support its plans for Arctic development and operation, and that capability is being modernized with a new fleet of the world's largest nuclear-powered icebreakers. In addition, two smaller icebreaking vessel classes, including an icebreaking combatant vessel, soon will be deployed to support Russia's military in the Arctic and Far East.
In comparison, the U.S. polar icebreaking capability continues to hang by a thread (i.e., the Polar Star) and our nation has to decide if it is even going to show up for polar icebreaking duty in the Arctic in the near future. The U.S. also is a no-show in the area of dedicated military icebreakers, including Arctic-capable armed combatant surface vessels.
Where do you think this Arctic imbalance is headed?
Update: 4 January 2019
In September 2018, the Coast Guard renamed its New Icebreaker Program 'Polar Security Cutter.' The hull designation will be WMSP. W is the standard prefix for Coast Guard vessels, and MSP stands for Maritime Security-Polar. However, the revised designation does not alter how the vessel is funded.
10 December 2018 report by the Congressional Research Service, "Coast Guard Polar Security Cutter (Polar Icebreaker) Program: Background and Issues for Congress," which you'll find at the following link: https://fas.org/sgp/crs/weapons/RL34391.pdf
With the heavy polar icebreaker Polar Star (WAGB-10) used exclusively to support Antarctic operations, the medium-size cutter Healy (WAGB-20) is the only Coast Guard polar icebreaker serving the Arctic region. Healy was built in 2000 primarily as an Arctic research vessel for the national Academy of Sciences.
"HEALY is designed to conduct a wide range of research activities, providing more than 4,200 square feet of scientific laboratory space, numerous electronic sensor systems, oceanographic winches, and accommodations for up to 50 scientists. HEALY is designed to break 4.5 feet of ice continuously at three knots and can operate in temperatures as low as -50 degrees F. The science community provided invaluable input on lab layouts and science capabilities during design and construction of the ship. At a time when scientific interest in the Arctic Ocean basin is intensifying, HEALY substantially enhances the United States Arctic research capability.
As a Coast Guard cutter, HEALY is also a capable platform for supporting other potential missions in the polar regions, including logistics, search and rescue, ship escort, environmental protection, and enforcement of laws and treaties."