Peter Lobner, 25 February 2021
The first race of the 36th America's Cup racing series starts on 5 March 2021 in Auckland, New Zealand. The defending Emirates Team New Zealand and the challenging Luna Rossa Prada Pirelli Team will be sailing (or rather flying) a radical new class of America's Cup boats knows as the AC75, which is a foiling monohull that was designed from the ground up to "fly" on its foils. It isn't clear if the AC75 is a flying boat or a sailing airplane.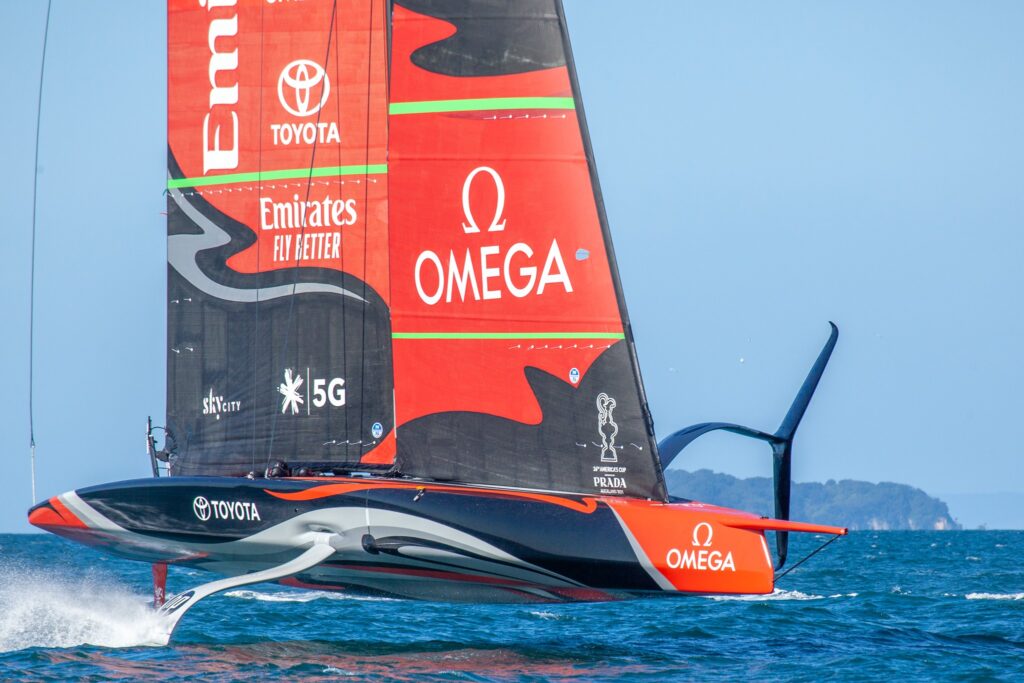 The Luna Rossa Prada Pirelli Team won the right to challenge based on its performance in the Prada Cup match races held from 14 January thru 20 February 2021. The America's Cup races are scheduled from 5 to 14 March 2021. You'll find complete information on the races on the America's Cup website at the following link: https://www.americascup.com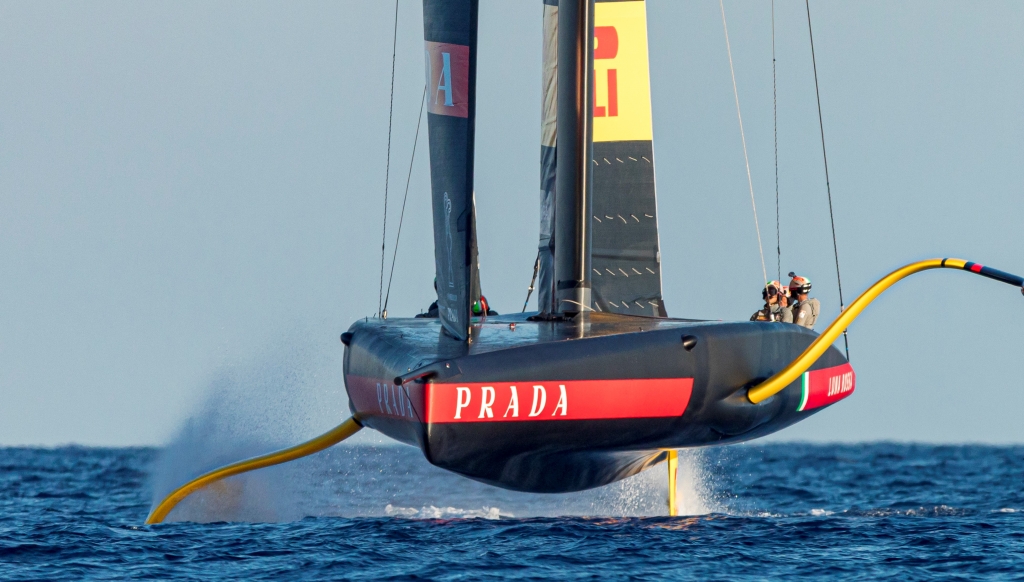 The New York Yacht Club American Magic entry, Patriot, was eliminated during the Prada Cup races, after recording no wins in the Round Robin series and no wins in the semi-final races against Luna Rossa. Patriot was damaged and in danger of sinking following a dramatic high-speed capsize following a tack in gusty wind conditions while leading Luna Rossa during Round Robin 2 Race 3 on 16 January 2021.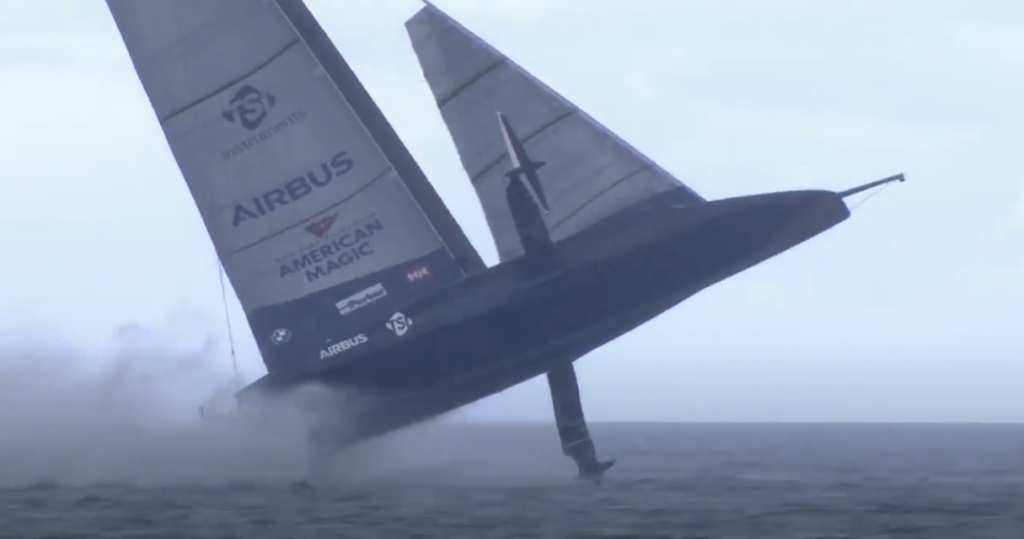 The AC75 operates with two completely different sets of boat dynamics:
Waterborne while accelerating at maximum power to quickly reach foiling speed at 12 – 14 knots
Flying on the foils to reach a top speed that can exceed 50 knots
Making a smooth transition from waterborne to flying on the foils can be a big challenge for the crew. As the transition is being made, the power demand drops rapidly (suddenly) as the hull emerges from the water and starts flying on the foils. The crew must quickly adjust sail power and trim to maintain control of the flying boat.
As you would expect, there are extensive regulations governing most aspects of the boat's design. The Rule is explained at the following link: https://www.americascup.com/en/official/the-class-rule
To get an introduction to an AC75 boat and its primary components, you can view a 3-D model here: https://www.americascup.com/en/ac75
The AC75 is a very lightweight vessel, with a fully-loaded weight of 7,600 kg (16,800 lb). The empty weight, not including sails or crew, is limited to 6,520 kg (14,374 lbs.). Of that, 3,358.5 kg (7,403 lb) is supplied by, or specified by, the America's Cup event organizer, and includes the following standard items for all teams.
Mast: A detailed specification; essentially a one-design mast with a D-shaped leading edge; teams can choose their manufacturer.
Rigging: Supplied to all teams.
Media equipment: Cameras, mounting hardware, power & controls supplied to all teams.
Foil cant arms and hydraulic control system: Standard system developed, tested and supplied to all teams by one manufacturer. The hydraulic system is powered manually by hand-operated grinders. The hydraulic system includes an interface to the trailing edge flaps on the foils supplied by each team.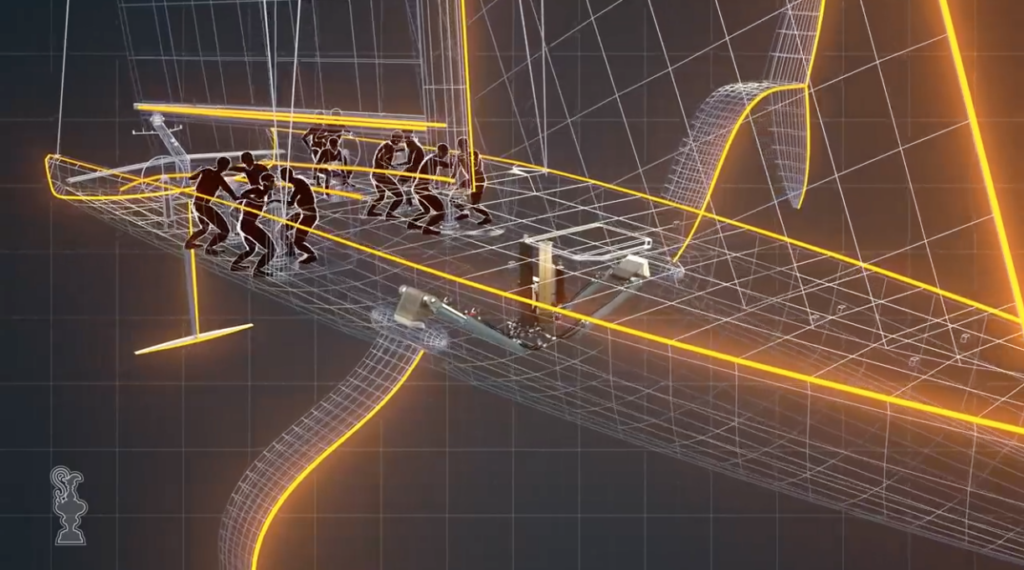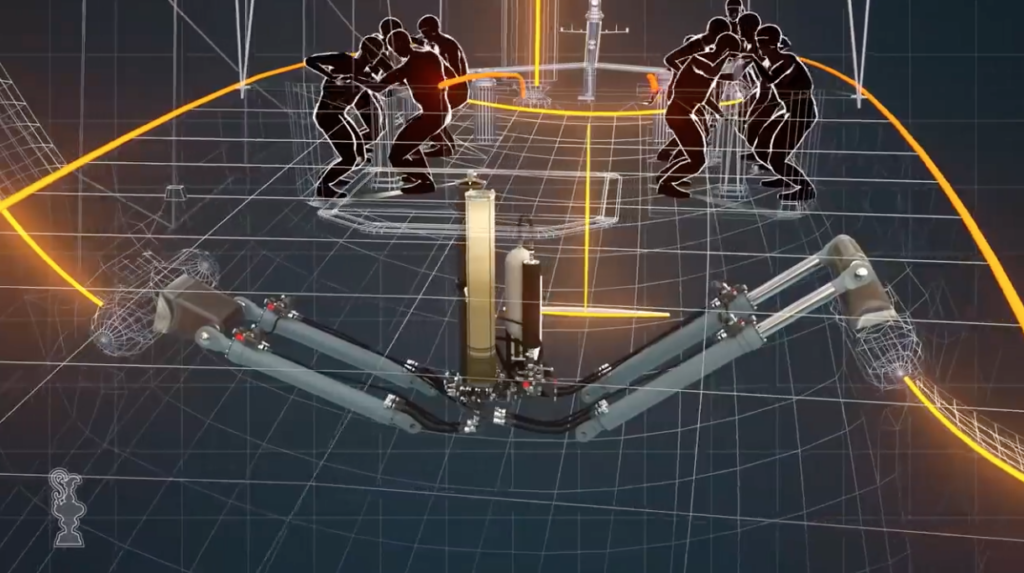 Each team is responsible for designing and building the rest of the boat while remaining within an empty weight budget of 3,161.5 kg (6,968 lb). The primary areas for innovation by each team are the following:
Hull design: (maximum length 75 feet / 22.86 m), with the primary choice being a flat bottom or with skeg to provide a less sensitive transition between waterborne and foil borne modes.
Crew and hand-operated grinder placement
Twin-skin soft main sail: Forms a fabric 3-D airfoil
Single-skin soft head sails
Rudder + stern foil
Foil wings, fairing and active trailing edge flaps: These are mounted to the standard cant arms; foils must be symmetrical with a maximum span 4 meters; flaps control lift; total weight is limited to about 1/3rd the weight of the empty boat.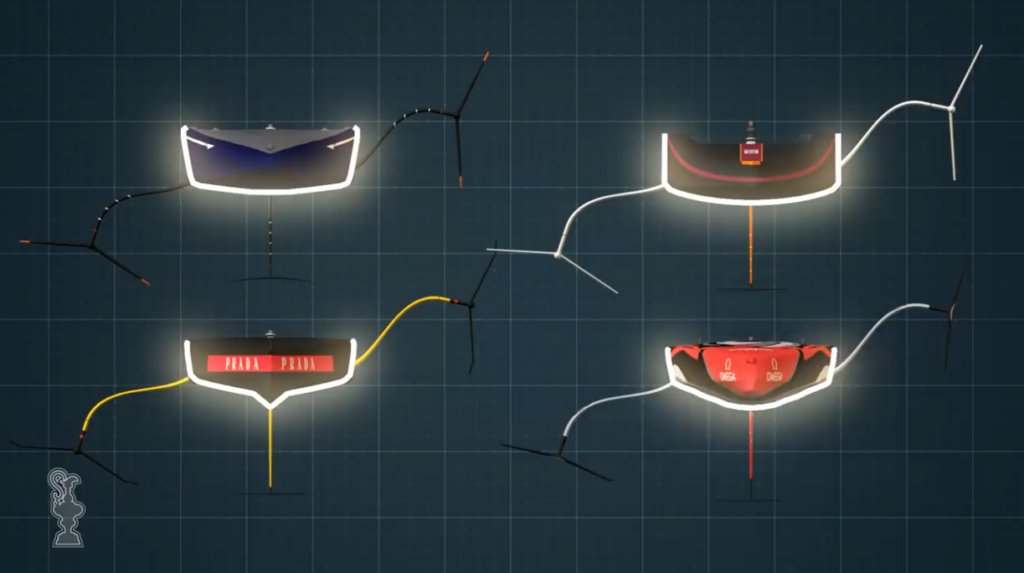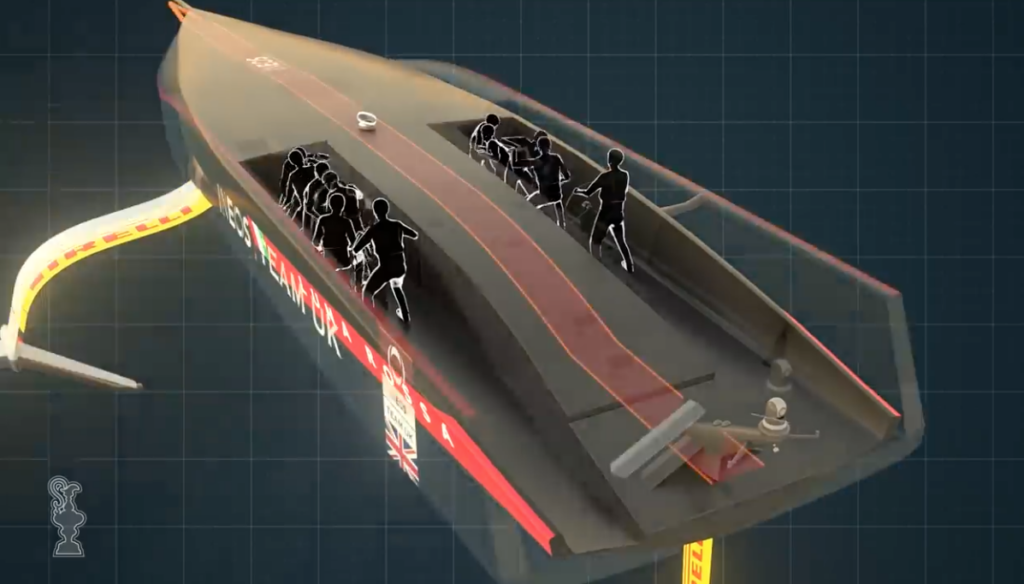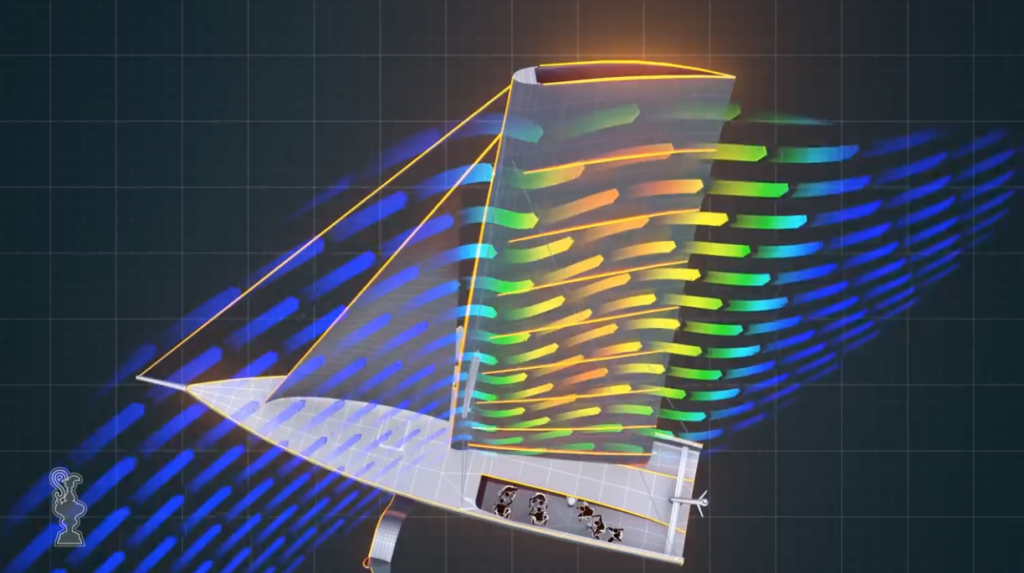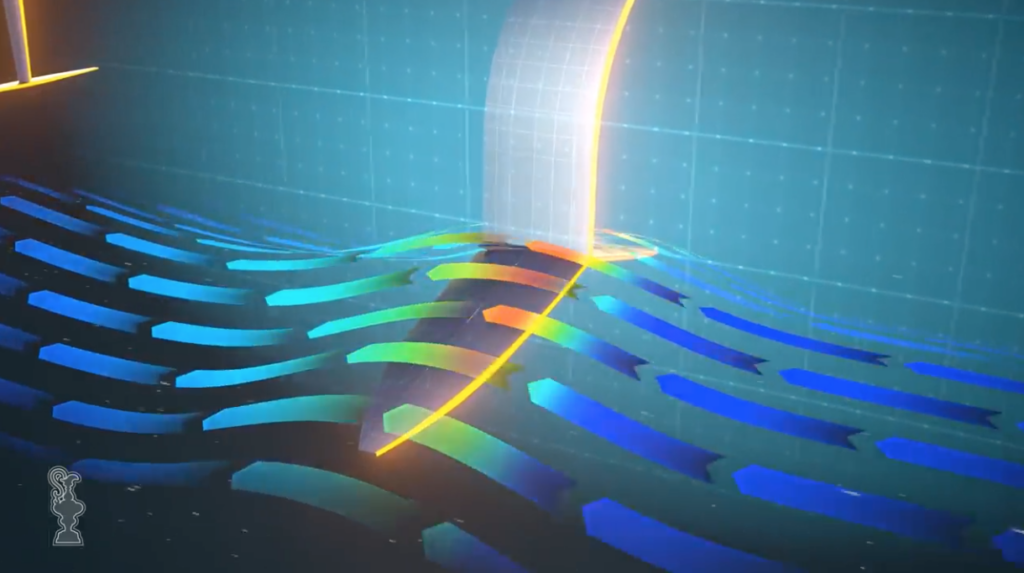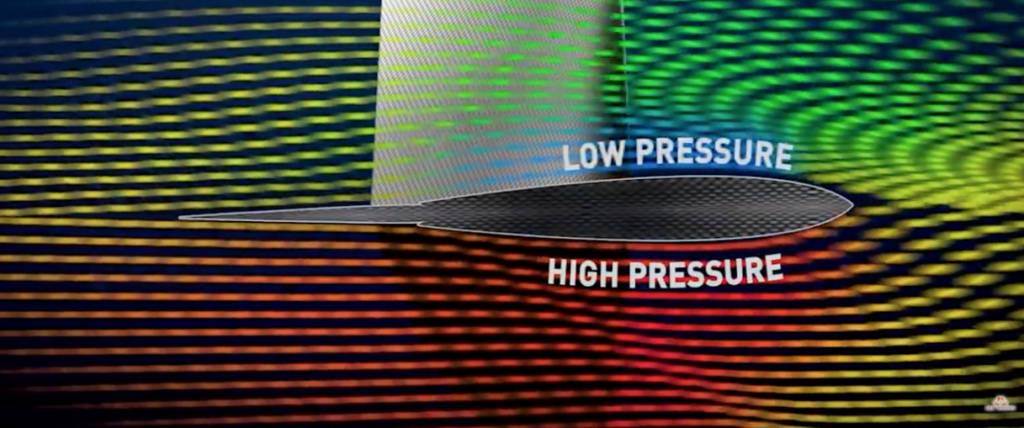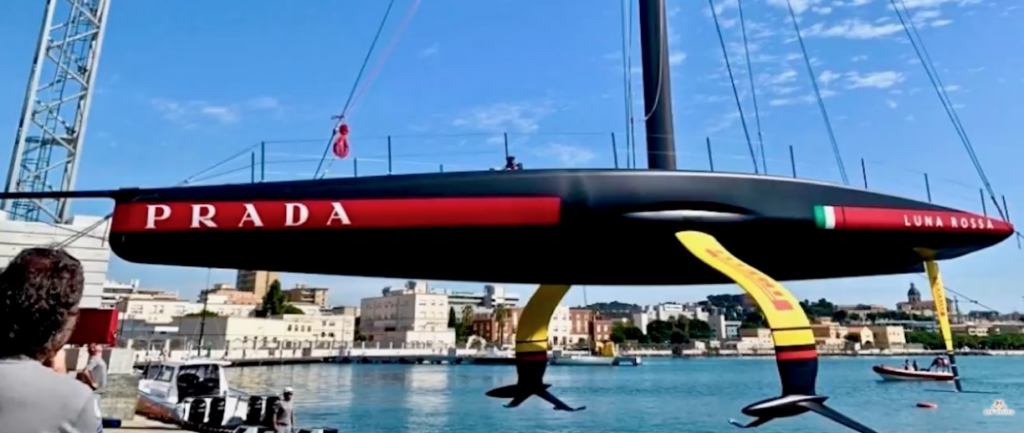 There are many AC75 videos available online, including many covering the exciting Prada America's Cup World Series races in December 2020 and the Prada Cup races in January – February 2021. These boats are so fast that the races are short and action packed. I've listed several videos focusing more in boat technology below.
I hope you'll enjoy a few of the AC75 videos and follow the America's Cup Races. It's not like any yacht racing you've seen before.
For more information:
Videos: